Mass awareness a must to curb corruption: Prof Muzaffer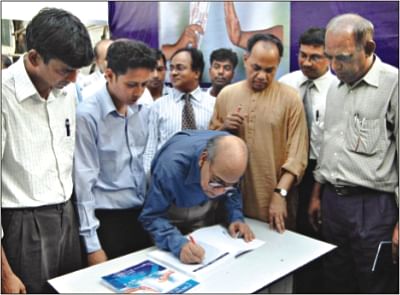 Transparency International Bangladesh (TIB) Chairman Prof Muzaffer Ahmad yesterday said corruption prevails everywhere in the society which is not possible to be uprooted overnight.
We are confined to a circle of corruption. Mass awareness against corruption can only improve the situation, he added.
Prof Muzaffer said this at the inaugural ceremony of a mass signature campaign against corruption at the National Press Club in the city.
Support Advertising Ltd and World Peace and Cultural Foundation jointly organised the campaign in association with Tele Talk, Excel Telecom, Channel-i and Kidzee.
Organisers of the campaign said they have targeted to collect around 5 crore signatures through the campaign across the country.
"Corruption has its different forms and it occurs where principles are violated," Prof Muzaffer said, adding that efforts to violate rules create corruption.
Hailing the initiative of the signature campaign against corruption, he said, "I hope those who will take part in the campaign will rethink before engaging themselves in corruption."
Election Commissioner Brig Gen (Retd) M Sakhawat Hussain, in a message sent to the organisers, hoped that mass signature campaign would create consciousness against corruption.
Writer Imdadul Haq Milon said corruption would be curbed if people of all walks of life are made conscious against it.
Wasting of anyone's time is also a corruption, he added.
Milon further said anti-graft drives should be launched from grassroots levels to curb corruption forever.
BCS Freedom Fighters' Association Secretary General Muhammad Musa said most of the ministers were engaged in corruption.
Prof Muzaffer Ahmad and Imdadul Haq Milon inaugurated the mass signature campaign through signing their names on a paper.