"Akhtari Banu": Plight of a Geneva Camp dweller
Mamunur Rashid talks about his latest digital film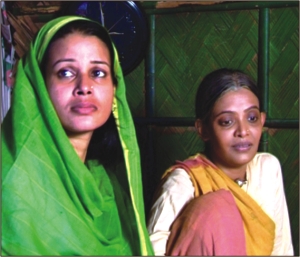 Noted actor-director-playwright Mamunur Rashid's latest digital film Akhtari Banu will be premiered today at the Liberation War Museum. The film addresses the "identity crisis" of the people living at the Geneva Camp in Mohammadpur. Rashid is the screenplay writer and director of the 45-minute-long film.
Akhtari Banu's story brings to light the plight of the Urdu-speaking people, who are also known as "stranded Pakistanis". Mamun said, "I demand the trial of War Criminals who collaborated with the Pakistani Army. However, as an artiste, I feel for those ill-fated people who don't have access to the most basic things in these camps. Many of them were not involved in the war; generations were born after the war in the camps. I've also tried to address the division among them in regards to their desire for citizenship."
"The film delivers an anti war message. The titular character Akhtari Begum goes through an ordeal during the Hindu-Muslim riot before the Partition in 1947. Subsequently, she and her child face problems of a new form -- 'identity crisis' after the Liberation War," he added.
Most of the film was shot at the BISIC Area in Tangail. Mamunur Rashid said, "The setting of the place resembles the Old Mohammadpur area in the mid-20th century."
Tamalika Karmakar, Chanchal Chowdhury, Joyraj, Shah Alam Dulal and others play the central roles in the film.
Talking about his current projects, Mamunur Rashid said that besides acting in TV serials for the private channels, he is also acting in BTV plays. In his words, "About a decade, I've started working in the BTV plays. I'm also writing scripts for BTV."
Referring to his 10-year hiatus from BTV plays, Rashid said, "I was a victim of politicisation by the BTV authority during the period. Now, the scenario has somewhat changed. Several senior artistes like me are performing in BTV plays now."
"But, BTV needs further reform to compete with the private TV channels. More talents should be recruited. And the artistes' remuneration should be reviewed as well," Rashid observed.