Resisting graft is a moral duty
ACC chief tells massive rally in Satkhira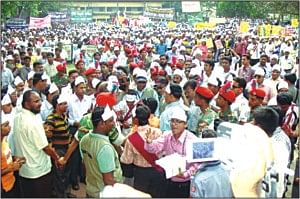 Vowing to contain corruption in the country, Anti Corruption (ACC) Chairman Lt. Gen. Hasan Mashhud Chowdhury yesterday called upon the people to raise their voices against the vice, saying it is 'our moral duty'.
The ACC chief called for forming anti- graft committees at grass roots levels with the slogans "I will not be involved in corruption or allow any one to be involved in corruption".
He also stressed the need for building a massive social movement to curb corruption, which is hindering and plunging the country into economic disaster.
"It is the right time to go against corruption and to resist it", he said while speaking as chief guest at a big anti-corruption rally at Shaheed Abdur Razzak Park in Satkhira town.
It was organised by Satkhira Sachetan Nagarik CommitteeSanak (conscious citizens committee), a chapter of Transparency International, Bangladesh (TIB).
Presided over by Sanak president Tapan Kumar Chakraborty, the rally was addressed by, among others, TIB executive director Dr Iftekharuzzaman and Dr Matiur Rahman.
Students from more than 30 schools and colleges, freedom fighters, representatives of non-government organisations (NGOs), Satkhira chamber of Commerce and Industries, professional bodies, local governments, Pourasava chairman and ward commissioners and socio-cultural organisations participated in the rally.
They carried banners, festoons and placards inscribed with anti-corruption slogans like 'We want a corruption free society, 'We are committed to build a corruption free society', and 'Say no to corruption'.
The procession led by the ACC paraded the town streets and terminated in front of Satkhira collectorate premises.
Corruption can not be curbed by ACC or any government. It is a social movement which needs participation of all sections of people. Students and youths can play a vital role to lead the movement, the ACC chief said.
Those who do corruption are few in number. "If we all raise our voice against corruption everywhere in the country from our own positions, they will be demralised. This will help to curb corruption to a great extend", he said.
"Such a grand rally would inspire students as well as people to take a firm stance against corruption", Dr Iftekharuzzaman said.
"Corrupt people and few in number but they have done much damage to the country's development. We should not allow them any more scope to do so", he said.
He called upon the people to boycott and hate corrupt people socially so that they can not raise their heads in the society.
Tapan Kumar Chakraborty said the nation belongs to the future generation but its vitals are being destroyed by a handful of people. This can not continue. The young generation should come forward to curb the social evil, he added.
Over 20,000 people, most of them students and youths, too part in the rally, vowing to resist corruption.
Later, the ACC chief met the Sanak members at Satkhira Circuit House and urged them to go ahead in their fight against corruption at any cost taking the people aslong.