Discovering Roma Das Gupta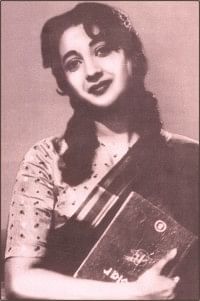 My mother gets upset whenever she hears news of Suchitra Sen falling ill and undergoing treatment at some clinic. She reads three to four newspapers that week to get updates on the legendary screen diva's condition. I can sense she silently prays for her recovery and well-being. Why does she feel so strongly about Suchitra Sen? Is there an unknown bond between my mother and her? Not really, when 'Suchitra Sen', the 'Fist Lady of Bangla cinema' is concerned, but there was an undeniable bond between my mother and one Roma Sen Gupta from Pabna who moved to Calcutta (now Kolkata) during the Partition (1947).
That very face!
One evening, towards the end of the '50s in Dhaka, my mother went to see a new Bangla (West Bengal) film called Moroner Porey. The heroine of the film was Suchitra Sen and the newcomer made an indelible impression on all with her immaculate grace and ravishing beauty. The face was right out of a fresco and the eyes were elusive enough for the men to want to drown in them! Who is this new actress? That face! That face seemed so familiar yet not quite! Those mysterious eyes...that smile...that chin…that neck...everything! Has she seen her before? My mother apparently couldn't forget that face.
Then one day she read in a Bangla magazine published from Calcutta (Possibly Ultorath) that the new sensation of Tollygunje, Suchitra Sen, was actually Roma Sen who came to Calcutta from Pabna soon after the Partition and got married to a rich zaminder's grandson Dibanath Sen. Dibanath's grandfather was Dinanath Sen (Dinanath Sen Road in Gandaria was named after him long before the Partition). That was enough for my mother to figure out where she has seen that face. She immediately brought in all the paper clippings of Suchitra Sen, her friends had amassed and looked deeply into those eyes. Yes! There she was! That pretty, soft-spoken girl called Roma from Pabna was today's Suchitra Sen! Mother called everyone and broke the news, excited with her major discovery! From that day on, mother never missed a single film that featured Suchitra.
The Pabna years
My grandfather Dr. Mohammad Hossain Ganguly was the Civil Surgeon of Pabna at that time and the father of Roma Sen AKA Suchitra, Sri Karunamoy Das Gupta, was the Sanitary Inspector. Roma had one elder sister named Uma Das Gupta and three younger sisters -- Hena, Leena and Runa. Incidentally my mother's nickname is Hena too. Roma had two brothers but my mother had seen only one.
In a district town, government officials lived in a specially developed area where security and amenities were better that that of the rest of the town. Only one house with a large compound separated Roma's house from the Civil Surgeon's house. Roma, her sisters and the brother used to play badminton in winter on the large compound between the two houses where my mother and my two aunts would join them for a game or two.
In a Hindu family, taking music and dance lessons just came naturally. All the Das Gupta sisters used to sing well and they would sing whenever my mother or my aunts or even my grandmother would request them. The sisters and their parents were extremely polite and amicable to people around them and made friends effortlessly.
Mother still remembers Roma, the best looking among the sisters, walking to school in a white sari with red border, almost looking like a goddess from the pages of mythology. One day she came to my grandfather for the treatment of an acute tonsillitis she was suffering from. It was painful and at the same time she was unable to take her singing lessons. After she recovered, she came to meet 'kakababu' (my grandfather) and thanked him. But the family was yet to encounter the harshest illness. The youngest sister Runa contracted the worst type of Typhoid. Grandfather used to visit her twice every day and monitor the treatment. Runa's fever often used to shoot up causing her to lose consciousness. One night, at around two in the morning, Roma's father came running to my grandfather, fearing that Runa may not have any hope. Grandfather went running with some medicine and stayed there for over an hour. He came back only after Runa gained consciousness and felt a little better. Since then she began to improve progressively. When Runa was completely cured after over a month, the whole Das Gupta family came to visit my mother's family to express their gratitude.
Towards the end of 1946 my mother's entire family was invited to Uma's wedding. They were all excited about it and started planning what to wear and all that. But one evening Roma's father came up to my grandfather and with a troubled face told him that Uma's soon-to-be father-in-law who was an orthodox Hindu priest of the community would not like a Muslim family attending the wedding. Roma's father apologised profusely and promised to hold a separate programme for the Muslim officials and neighbours.
With Uma's wedding and the Partition taking place in August 1947, things began to change fast in the lives of the two families. Most of the affluent Hindu families left for India. Karunamay Das Gupta also took the difficult decision to migrate to West Bengal. For the last time the two families met and exchanged pleasantries. Memories crowded their minds and yet it was time to go and let go. 'Kakababu' put his hand on little Runa's head and ruffled her hair. Runa smiled and turned her face away. She was trying to hide her tears.