Hasina should be treated abroad
Concludes medical board after AL president's admission to hospital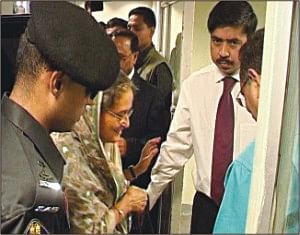 Detained Awami League (AL) President Sheikh Hasina was admitted to the city's Square Hospital yesterday, and a panel of seven doctors there unanimously recommended she should be sent to the US for ear treatment.
Prof Mohammad Abu Tahir, Prof Tofail Ahmed, Prof Pran Gopal Dutta, Prof Modasser Ali, Prof MU Kabir Chowdhury, Dr ABM Abdullah and Dr MH Millat examined her for over an hour after her admission in the morning. They concluded there is no alternative to sending her abroad for treatment if she is to avoid permanently impaired hearing.
In another development, the US doctors, who had earlier treated Hasina for the ear injuries she sustained in the August 21 grenade blasts, have requested the jail authorities to send her to their hospital in Florida without delay.
In a letter, they suggested that software of the hearing aids installed in her ears should have immediate adjustments, said a personal physician of the ailing former prime minister.
Meanwhile, the AL Presidium yesterday called on the government to release its chief immediately and with no strings attached. It also decided to write to the chief adviser in a day or two, urging him to arrange for her to get treatment in the US.
Under supervision of Dr Millat, the AL president was taken to the hospital at 8:46am. She has been allotted a cabin on the 14th floor. Tight security measures were in place in and around the private medical facility on Panthapath.
Earlier on Monday, she agreed to be hospitalised as proposed by the caretaker government.
Talking to The Daily Star in the afternoon, medicine specialist Dr Abdullah said they are unanimous in their opinion that she must be sent to the US hospital where she had her ear devices installed and updated from time to time. "Otherwise, we are afraid she might go permanently deaf."
However, her other medical conditions can be treated here, he added.
"We have already sent our recommendations to the jail authorities in writing," said Dr Abdullah.
Prof Tahir, vice-chancellor of Bangabandhu Sheikh Mujib Medical University (BSMMU), told reporters that the ENT specialists who have examined Hasina think it would not be wise even to "touch her damaged ears". She should be treated at the medical centre where she got treatment earlier.
Deputy Inspector General (prisons) Major Shamsul Haider Siddiqui told The Daily Star at 8:00pm that the recommendations did not yet reach them. "Let us receive the recommendations first and only then we will decide on the matter."
However, Suraiya Bulbul, the doctor assigned to monitor the health condition of Hasina at the subjail on Jatiya Sangsad Bhaban complex, has received a letter from one of her personal physicians, he added.
Meanwhile, some highly placed sources told The Daily Star that her hospitalisation is in fact part of the government plan to send her abroad within several days.
Besides ear problems, she has allergy and high blood pressure.
Sources said four other doctors--Dr Shaila Khatun and Dr Baren Chakrabarty and two others nominated by the government--could soon join the seven to examine her thoroughly.
In three weeks, this is the second time she is at the Square Hospital. On February 21, after a couple of hours' stay for check-ups there she was taken back to the makeshift jail.
Briefing the newsmen in front of the hospital, DIG Prisons said they learnt on Monday night that the AL chief would be admitted to hospital. "We preferred Bangabandhu Sheikh Mujib Medical University Hospital or Apollo. But she preferred Square," he said.
They would take further steps following up the doctors' suggestions after all necessary examinations.
AL PRESIDIUM
The Presidium, the party's highest policy-making body, at a meeting chaired by acting president Zillur Rahman demanded that the government send their leader to the US for treatment.
It also discussed overall political situation and price hikes of essentials.
Briefing the journalists, AL acting general secretary Syed Ashraful Islam said the Presidium observed that the caretaker government's only duty is to have the national election held in a free and fair manner.
It asked the military-backed administration to lift the state of emergency and ban on political activities.
Presidium members Syeda Sajeda Chowdhury, Amir Hossain Amu, Tofail Ahmed, Suranjit Sengupta, Motia Chowdhury, Kazi Zafrullah and Ataur Rahman Khan Kaiser were present at the meeting that also called for effective measures to contain price spiral.