<i>A novel way of protest</i>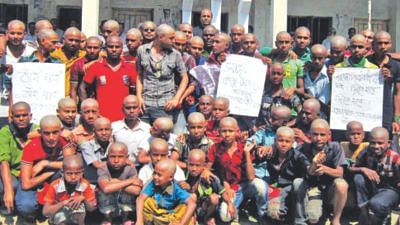 Over a hundred youths and boys of Kaheta village in Gopalpur upazila under Tangail shaved their heads simultaneously on Saturday, demanding capital punishment to the war criminals and ban on politics of Jamaat-e-Islami and its student wing Islami Chhatra Shibir.
The shaven headed youths, most of them students of different schools and colleges, demonstrated on the premises of Kaheta High School in the upazila, expressing hatred towards the criminals who committed crimes against humanity as collaborators of the Pakistan occupation army during the 1971 Liberation War.
Later, they brought out a procession in the area, chanted slogans against the war criminals and held a rally on the Shaheed Minar premises.
Gopalpur upazila parishad Chairman Younus Islam Talukder joined the young protesters there, also shaving his head.
"I express solidarity with the youths as people from all walks of life should rise against the war criminals to ensure their capital punishment and ban of Jamaat-Shibir politics," he said.
Mizanur Rahman Mizan, one of the protesters and an intermediate student of Hemnagar College, said, "We did not see the Liberation War, but feel it at heart. The young generation of the nation has now risen demanding capital punishment to the war criminals and the youths of Kaheta village have joined the movement."
"The rural youths across the country should join the movement of the youths at Shahbagh in the capital to continue fight against the war criminals," said another protester Sohel Ahmed, an honours first year student of Government Sadaat College.