<i>Return of that famous letter</i>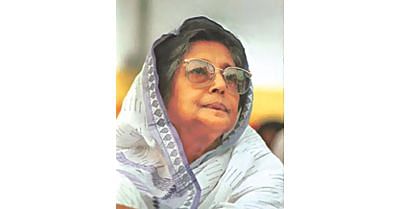 Jahanara Imam
"I was there, at the dawn of the movement. Our oath was not to leave the streets until the goal is achieved. You, the people of the country, have exhibited a unique sort of unity and gallantry," reads the last letter of Shaheed Janani [Mother of Martyr] Jahanara Imam.
Yesterday, a group of students of Fine Arts Institution at Dhaka University were found distributing copies of the letter among Shahbagh protestors.
Jahanara Imam, mother of martyred freedom fighter Rumi and the one to initiate the movement for the trials of war criminals, had written the open letter to countrymen on her deathbed. She died of cancer on June 26, 1994, at the age of 65.
"For the last three years, you have been fighting against the killers of '71, including war criminal Ghulam Azam and the evil forces that opposed the Liberation War," the letter continues, "The deadly cancer is showing me no mercy. But I have kept my promise. I never left the streets. But none can alter the course of death. So I am bidding good-bye and reminding you of your oath once again. You must keep your promise. Remain united until the end. Even if I am not there, I would know that crores of my children are living happily with their sons and daughters in the free golden Bangla."
"The movement still has to go many rough miles. People from all walks of life including politicians, cultural activists, freedom fighters, women, students and the youths are with this movement. I know the people are the ultimate trustworthy. The people are the source of all power. So I bestow the responsibilities of bringing Ghulam Azam and other war criminals to justice, and implementing the spirit of the Liberation War upon you, the people of Bangladesh. I am sure, victory shall be ours," ends the letter.
In 1992, the country's civil society began an unprecedented movement under the leadership of Jahanara Imam with the banner "Ekattorer Ghatak Dalal Nirmul Committee" [Committee for Eradicating the Killers and Collaborators of '71].
Fine Arts student Sinthia Arefin said they had decided to distribute the letter to convey to the people the message of the Shaheed Janani.