Twenty cops assaulted
Shibir pledges peaceful processions, ends up with targeted attacks on police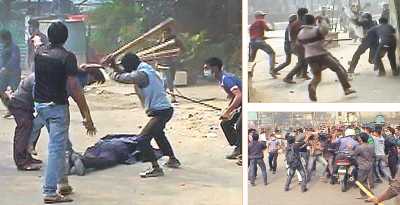 They promised peaceful rallies and processions. They got permission. The result -- at least 20 policemen injured, two critically.
In keeping with the pattern of their assaults on the law enforcers over the last few months, Jamaat-e-Islami and its student wing Islami Chhatra Shibir yesterday brutally attacked police in Narayanganj, Bogra, Bagerhat and Joypurhat.
In the capital, stick-wielding Jamaat-Shibir activists brought out a procession in Bijoynagar area. They blasted hand-made bombs before staging a rally at Shapla Chattar.
Mehedi Hasan, additional deputy commissioner of Dhaka Metropolitan Police (Motijheel), told reporters that Jamaat-e-Islami had promised to stage a peaceful procession and rally. "That's why we gave the permission."
Witnesses said there was no resistance or provocation from the cops yesterday, yet the Jamaat-Shibir cadres ran riot in the capital and elsewhere, beating up police.
Narayanganj witnessed fierce violence as Jamaat-Shibir went on the rampage, blasting cocktails and assaulting police.
At least 15 policemen were wounded in the mayhem with Sergeant Delowar and ASI Abu Jafar critically hurt.
Before the attack on Delowar and his colleagues, the activists had assured police that they would just hold a peaceful rally on Chashara intersection.
"But soon, Jamaat-Shibir men -- many with sticks and brick chips in bags -- took position at Sayam Plaza, Khanpur Hospital and Tolaram College points.
"All of a sudden, they launched synchronised attacks on police from three sides," Narayanganj Superintendent of Police Shaikh Nazmul Alam told The Daily Star.
"It seemed their attack was pre-planned and guided by senior leaders holed up nearby."
Videos and photographs show Shibir men indiscriminately hitting Delowar with large sticks, pelting him with brick chips and kicking him until he lapsed into unconsciousness.
Jamaat-Shibir men also attacked from behind a group of police personnel standing in front of the Shaheed Minar, locals said.
Later, additional police force turned up and fired over 30 rubber bullets and several tear-gas shells to save their fellows. Some of the activists were injured at that time.
At least five cops suffered injuries in Bogra, Bagerhat and Joypurhat in the clashes yesterday.
While enforcing hartal in Bogra, Jamaat-Shibir men hurled several cocktails at a police van in the morning. Police were seen trying to save themselves hiding inside the van.
On January 31, the Jamaat called the dawn-to-dusk hartal protesting the killing of its three members.
During the hartal hours, they blasted at least four cocktails in front of Shaheed Ziaur Rahman Hospital.
They also vandalised seven vehicles on the Bogra-Dhaka highway at Sherua Bottola area around 8:00am.
In Bagerhat, the officer-in-charge of Rampal Police Station said, a group of Jamaat-Shibir cadres attacked police from a procession in the afternoon. Two of the activists were detained.
In Joypurhat town, the activists attacked a police van.
Meanwhile, Jamaat in a press release announced protest rally across the country tomorrow demanding the government stop the war crimes trial and unconditionally release its leaders. It also threatened to enforce a countrywide non-stop hartal if its demands were not met.
Fearing verdicts in the war crimes trial, Jamaat and its student front started a campaign of terror last year, mostly targeting police, claiming they were not being allowed to hold "peaceful" procession and rallies.
The trial of those who committed war crimes and crimes against humanity during the Liberation War has been a national demand since the birth of Bangladesh in 1971.
Ahead of the 2008 general election, the Awami League pledged to try the war criminals if voted to power. The party won a landslide victory in the December 29 polls, and later the Jatiya Sangsad unanimously passed a proposal for the trial.
Some top leaders of Jamaat-e-Islami are among those on trial. The party acted against the birth of the nation by collaborating with the Pakistani occupation forces in committing crimes including genocide, rape and arson.