Top Asia Energy official's visit sparks protest in Dinajpur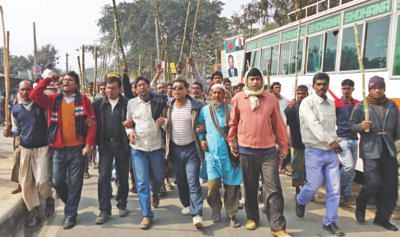 Locals staged demonstration yesterday protesting the planned visit of Gary Lye, country chief of Asia Energy Bangladesh, to different places in Phulbari, Nawabganj, Birampur and Parbatipur upazilas under the district.
Gary Lye, who arrived in Dinajpur on Monday, was to visit the Asia Energy office in Phulbari and different villages including Raghunathpur of Nawabganj and Khanpur of Birampur upazila.
As the news spread, the people under the banner of National Committee for Protection of Oil, Gas, Mineral Resources, Port and Power and Sammillito Peshajibi Sangathan separately staged demonstration and brought out protest processions in Phulbari town yesterday.
The people of Phulbari will thwart the Phulbari coalmine project of Asia Energy, said Phulbari Municipality Mayor Golam Mortuza Sarker Manik, also convener of Sammilito Peshajibi Sangathan, and Saiful Islam Jewel, Phulbari upazila unit convener of National Committee for Oil, Gas, Mineral Resources, Port and Power Protection.
Meanwhile, Asia Energy country chief Gary Lye met Dinajpur Deputy Commissioner Ahmed Shamim Al Razi and Superintendent of Police Md Moinul Islam at their offices yesterday.
However, topic of their discussion could not be learnt.
Gary Lye was to distribute warm cloths among the poor people of the upazilas, said Khandakar Nuruzzaman Raja, president of Dinajpur Dakkhin Anchal Unnayon Front that arranged the programme of Asia Energy country chief's visit to the four upazilas.
However, Lye did not visit any of the places as of yesterday afternoon, Nuruzzaman said.
The Asia Energy has mining lease and licence for exploration of mineral resources in the area.
In 2005, the company proposed development of an open-pit mine to ensure maximum coal production in Phulbari where around 572 million tonnes of high quality coal lies at a depth ranging from 150 to 270 metres.
It also proposed building a coal-fired power project at the mine site.
This proposal prompted some quarters, including National Committee for Oil, Gas, Mineral Resources, Port and Power Protection, to protest as the project would displace a large number of people.
On August 26, 2006, thousands of people of Phulbari led by leaders of the 'national committee' staged a violent demonstration centring the coal mine issue. Law enforcers opened fire, leaving three people killed.
Tension gripped the area again as the home ministry on October 14 last year instructed the district administration of Dinajpur to cooperate with the London-based company for conducting activities required for exploration of a potential coal mine in Phulbari, Nawabganj, Birampur and Parbatipur upazilas.
The agitating leaders said the project would displace at least 4.7 lakh people and badly affect the agriculture and environment of a vast area.
On the other hand, officials of Asia Energy have been claiming that the project would relocate around 50,000 people.