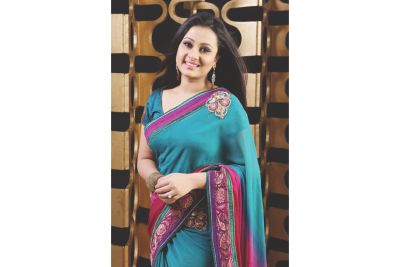 Purnima is no newbie to the silver screen. Her 14-year career has brought her the National Film Award, along with the admiration of millions. Her talents have also been proven in TV dramas and commercials. The actress, who is leaning more towards TV dramas now, recently spoke to The Daily Star about her career and memorable performances:
What are you currently working on?
Purnima: I'm busy with TV plays and tele-films. I worked for a brief period as a judge on a dance competition. I've worked in Rajib Ahmed Chowdhury's drama "Khuje Berai Taare", and a TVC directed by Anjam Masud. I'm also doing a serial called "Idiots".
It's been a while since you performed in a serial?
Purnima: I think I didn't do any serial in at least 10 years. I did my first serial under the direction of Zahid Hasan, titled "Lal Nil Beguni". Later on, I did several one-hour TV plays and tele-films, but that was my only serial at that time. "Idiots" is only the second serial of my career.
Tell us about "Idiots".
Purnima: It's a comedy. I laugh the entire time I'm on the set. I don't have any dialogue in the serial; instead I have to act out everything with gestures. In the drama, I have a wonderful relationship with a few tenants staying at our house.
Why did you agree to this particular TV serial?
Purnima: It's being directed by Muhammad Mustafa Kamal Raj. I've previously worked with him for a movie, which is awaiting release. During shooting, the director told me about it, and I liked the story and character right away. My elder sister Dilruba is also acting in the serial.
Will you be more frequent in TV dramas from now on?
Purnima: There is a possibility. However, that doesn't mean that I will be absent from films. I want to work in films, dramas and TVCs.
Are you shooting for any movie right now?
Purnima: Currently I'm working on an FI Manik's movie "Judge Barrister Police Commissioner". I've received many film offers in recent times, but had to decline them all as I didn't like the stories or the characters.
What films can the audience expect from you in the upcoming days?
Purnima: Sohanur Rahman Sohan's "Lobhe Paap Paape Mrittu" is set to be released soon. The audience will get to see me with Riaz and Amin Khan on the screen after a long time. "Chhayachhobi", where I've acted opposite Arefin Shubho, is also expected to be released soon. I've also acted with singer Tahsan in the film "To Be Continued".
Your future plans?
Purnima: I want to stay involved with good assignments. Rather than quantity, I want to focus on the quality. You can be under the spotlight if you manage to deliver even a handful of worthy performances.