Sahara Cup 2012Bangladesh vs West Indies
Classic Chanderpaul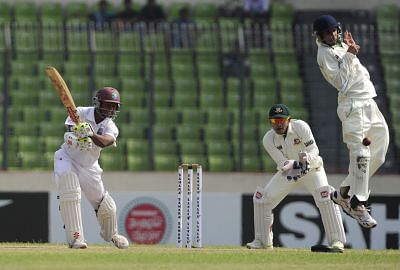 For those who wanted to witness the essence of a typical Test innings, the Sher-e-Bangla National Cricket Stadium in Mirpur was the place to be yesterday. Shivnarine Chanderpaul's double hundred (203 not out), the second in his 18-year long career, wasn't necessarily eye-catching. It didn't contain any sixes and neither was it filled with a string of flamboyant strokes.
However, out of the seven hours and 37 minutes that the left-hander spent at the crease the veteran almost never looked in trouble. There was only a single moment early in the day when an edge of his bat fell agonisingly short off the slip-cordon.
But from then on, Rubel Hossain's neck-length bouncers were patiently left alone and Shohag Gazi's turners were precisely put into the gap almost every time. The good deliveries were respected, the over-pitched were elegantly driven, whereas the short and wide were chopped towards the fence. It was eventually a calculated double off Gazi at point that took Chanderpaul to his double hundred.
"If you notice, in my career, I haven't scored too many double centuries. So it's always pleasing to score one. When you are in good form, things just go your way," said Chanderpaul at a post-day press conference at the SBNCS.
Had Darren Sammy not decided to have declared the innings, Chanderpaul , would have surpassed his highest score of 203 not out, an innings that he had played against South Africa in 2005. The middle-order batsman, however, didn't seem to be bothered about that landmark.
"To me the team comes first. It doesn't matter what your individual score is. I was happy to have reached the double-hundred mark, but it's always important to stick to the team plan," said Chanderpaul.
The declaration before tea seemed to have paid the dividends for the visitors as they picked three crucial wickets, including that of Tamim Iqbal, before the end of the day. "When you are fielding for two days, the guys are tired, and that's what we saw today. I am guessing there is a bit of tiredness in the batting. The wicket though is a very good one to bat on," said Chanderpaul.
The Bangladeshi top order's approach seemed bang opposite as compared to that of the West Indian. Tamim , for instance scored 12 boundaries, for his 72. It was exactly that sort of aggression, however, that made him lose his wicket right before stumps.
As expected, Tamim's fall immediately began a series of comparisons between the approach followed by the two batsmen, with the majority in the press box criticising the Bangladeshi opener's approach. The West Indian veteran, who had a chance to provide his opinion on this matter, stated that Tamim's way of batting was just 'different'. "It's not just him. Even (Chris) Gayle bats in his own way, we can't tell him how to bat. If Tamim wants to play like this, it's best to just let him," said Chanderpaul
With seven centuries in Test cricket in the last two years and a series of fifties both at home and away, it seems as though 38-year-old Chanderpaul is only getting better with time. The left-hander attributed his hunger for runs to his love for the game.
"Well, it's something that I tried hard over the years to do. I always try to improve and get better. That's how Test cricket goes, it's where you have to work hard," said Chanderpaul.
Chanderpaul's 26th century has brought him level with the number of hundreds scored by West Indian legend Sir Garfield Sobers. The batsman stated that it was an 'honour' for him to 'be up there'. "Sir Gary is Sir Gary. I know I have played a lot more innings than him, but it's still an honour."
The batsman further stated that the visitors' plan of action would depend on how the third day turns out to be. "The wicket's got something in the morning, so we'll try to do something then," said Chanderpaul.