Syed Waliullah: The First Philosopher of Bangladeshi Literature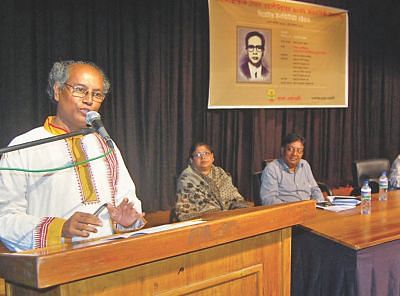 Bangla Academy organised a discussion in the port city on Tuesday afternoon to observe the 90th birth anniversary of pioneering novelist, short story writer and playwright Syed Waliullah.
Professor Mahibul Aziz of Chittagong University presented the keynote paper, titled "Syed Waliullah: Bangladesh-er Kotha Sahityer Prothom Darshonik" (Syed Waliullah: The First Philosopher of Bangladeshi Literature), at the discussion held at Theatre Institute Chittagong (TIC).
The discussion, chaired by Professor Anupam Sen, Vice Chancellor of Premier University Chittagong, was organised in association with Chattagram Academy.
Professor Aziz said that although Waliullah came from a well-off family, he portrayed the lives of the downtrodden people in his novels.
Existentialism was inherent in his writings, said Professor Aziz, adding that another important dimension of his novels was that no specific and traditional heroic characters emerged in his writing.
Terming Waliullah "an ardent supporter of the Liberation War", he said that Waliullah raised funds in Paris for the freedom fighters during the Liberation War.
Professor Shafi Ahmed of Jahangirnagar University said that Waliullah's novels do not have traditional heroic characters as in Greek plays. The author did not think it necessary to have such heroic characters to make for successful novels.
"It is unfortunate that Waliullah could not succeed as a playwright although his plays are also excellent," said Professor Shafi, adding that his "Bahipeer" was the first ticketed play to be staged in Bangladesh. Professor Shafi found some parallels between "Bahipeer" and William Shakespeare's "Tempest".
As an absurd play Waliullah's "Ujane Mrityu" had the excellence of "Waiting For Godot", a famous play written by Samuel Beckett, he mentioned.
Professor Dr. Mahbubul Hoque of Chittagong University said that surrealism and humanism are two other philosophical concepts reflected in Waliullah's writing alongside existentialism.
He presented these thoughts through his novels, plays and short stories not as a teacher but as a creative writer, said Dr. Mahbubul.
Poet and Journalist Abul Momen, in his discussion on the keynote paper, said that Syed Waliullah was conscious from the beginning about what he was going to pen.
He included philosophical thoughts in his writings through his creativity, said Abul Momen, also the Chittagong resident editor of Prothom Alo, adding that he rather played the role of an artist.
Differing with the opinion of the keynote speaker, he said that Waliullah did not portray the lives of the have-nots rather he hit at the point that the opportunistic quarters do not perform their responsibility to society, adding that like his novels, the short stories written by Waliullah are also excellent.
Alongside three novels, Waliullah wrote 17 short stories and four plays which are also brilliant, he opined.
Professor Shirin Akter of Chittagong University; director general of Chattagram Academy, Aminur Rashid Quadery; Divisional Commissioner of Chittagong, Serajul Huq Khan; poet Rashed Rauf; and director (Basha O Sahiya) of Bangla Academy, Mohammad Abdul Hai, also spoke at the discussion.