Bangladesh joins Asem
PM attends 52-nation meeting in Laos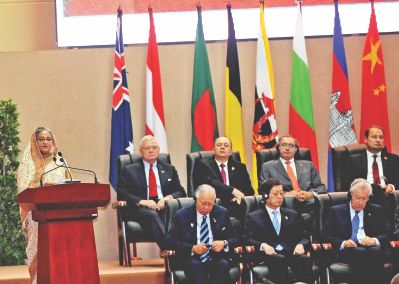 Bangladesh has formally joined the 52-nation Asia-Europe Meeting (Asem) devoted to building up cooperation between Asia and Europe on political, economic and social issues.
The induction of Bangladesh happened along with two other countries -- Norway and Switzerland -- in an enlargement ceremony prior to the launching of the 9th Asem Summit in Laos yesterday.
Chairman of the summit Thongsing Thammavong, also the prime minister of Laos, welcomed Bangladesh, Norway and Switzerland in the Asia-Europe forum.
Prime Minister Sheikh Hasina attended the enlargement function with other heads of state and government at Champa Grand Hall of the National Convention Centre in Vientiane.
Addressing the function, Hasina expressed her profound delight saying "You have welcomed us in your midst as a partner, and we promise to contribute fully to the Asem process."
She said Asia and Europe have diversity and differences as well as mutuality of interests. In the contemporary world, economic inter-dependence between the two continents remains substantial, and it continues to grow.
"We should strengthen our resolve to act collectively. Asem has embodied our faith in the intensified dialogue and in the innovative and practical initiatives based on the best practices across our two continents," she told her audience.
Hasina hoped the Asian neighbourhood would be able to work with the European friends in seeking convergence on various global as well as regional challenges and opportunities.
Other speakers at the ceremony said the Asem process has made significant contribution to the promotion of mutual understanding, peace, stability, development and prosperity of Asia and Europe.
It has been facing many challenges such as climate change, economic and financial crisis, high prices of food and energy, natural disasters, outbreak of infectious diseases and others, they said.
Despite the challenges, Asem remains relevant and continues to be an important forum for the partners to share their thoughts, exchange views and explore ways and means in promoting better understanding between Asia and Europe, they observed.
Australian President Julia Gillard, Norwegian Premier Jens Stoltenberg, Swiss President Eveline Widmer-Schlumpf, Pakistan Prime Minister Raja Pervez Ashraf, European Commission President Jose Manuel Barroso, among others, spoke on the occasion.
The 9th Asem Summit is being held in Vientiane with the participation of the heads of state and government of 52 countries.
This year, the summit theme is 'Friends for Peace, Partners for Prosperity'.