'NY Terror Plot'
Nafis' family stunned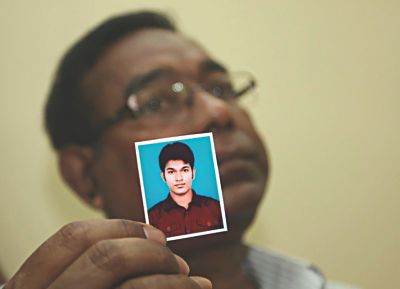 Just a few hours before he was arrested in an FBI sting operation, a Bangladeshi man accused of trying to blow up New York's Federal Reserve building calmly spoke via Skype with his parents back home and updated them on his studies, his family told The Associated Press.
They were stunned yesterday morning to find out that the banker's son from a middle-class Dhaka neighbourhood was accused of trying carry out a terror attack. They denied he could have been involved.
"My son couldn't have done it," his father, Quazi Ahsanullah, said weeping.
"My brother may have been a victim of a conspiracy," said Fariel Bilkis.
The FBI arrested 21-year-old Quazi Mohammad Rezwanul Ahsan Nafis on Wednesday after he tried to detonate a fake 1,000-pound (454-kilogram) car bomb, according to a criminal complaint.
Prosecutors said Nafis travelled to the US on a student visa in January to carry out an attack.
Hours after his arrest, Bangladeshi detectives were at his family's three-story home in the Jatrabari neighbourhood in south Dhaka.
"We are just collecting details about Nafis from his family," one officer said, speaking on condition of anonymity because he was not authorised to speak to the media.
Nafis family said he was incapable of such actions and he went to America to study business administration, not to carry out any attack.
Nafis was so timid, he couldn't even venture out onto the roof alone, his father said. "He used to take someone to go the roof at night. I can't believe he could be part of it (the plot)."
"He is very gentle and devoted to his studies," he said, pointing to Nafis' time studying at the private North South University in Dhaka.
However, Belal Ahmed, a spokesman for the university, said Nafis was a terrible student who was put on probation and threatened with expulsion if he didn't bring his grades up. Nafis eventually just stopped coming to school, Ahmed said.
Ahsanullah said his son convinced him to send him to America to study, arguing that with a US degree he had a better chance at success in Bangladesh.
"I spent all my savings to send him to America," he said.
Nafis attended Southeast Missouri State University during the spring semester, which ended in May, in pursuit of a bachelor's degree in cybersecurity, university spokeswoman Ann Hayes said. He requested a transfer of his records in July and the university complied, Hayes said, though she couldn't say where the records were sent.
Mohammad Arif Akunjee, a childhood friend, said Nafis wanted to be a businessman.
Just a few hours before his arrest, Nafis talked to his mother over Skype to update her on his plans, Bilkis said.
"My brother told my mother that he was doing well in studies in the US and was transferring to a college in New York," said his sister.
Early yesterday, a relative living in Switzerland called to tell the family Nafis had been arrested.
"We woke up with this terrible news. We just can't believe it," she said.
Ahsanullah called on the government to "get my son back home."
Bangladesh does not have the same record of involvement in global terrorism as Pakistan, with which it once formed a nation before winning its independence in 1971. At least one Bangladeshi was among those detained by the US at Guantanamo Bay Naval Base in Cuba.