High-rise Construction
Time to go vertical as land shrinks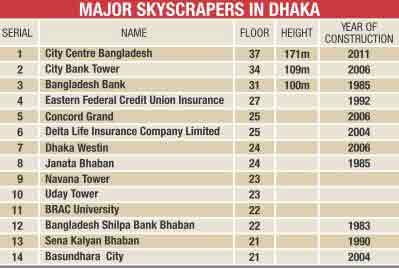 Construction of high-rise buildings is on the rise in Bangladesh as developers are eyeing vertical expansion to offset the decline of land in urban areas.
Soaring urban land prices, technological advancement and population growth are some of the reasons behind the growing preference for tall buildings among developers, said analysts in a seminar yesterday.
"Bangladesh is at the crossroads of urbanisation," said M Firoze, head of marketing and product development at BSRM Group.
He spoke at the seminar on tall buildings organised by the BSRM Group at the Sonargaon Hotel.
"Poor planning, inadequate infrastructure, migration of the rural poor, and sky rocketing urban land prices have all contributed to a situation where living in the city has become a nightmarish experience."
"So, building vertical, taller structures is no longer a debatable proposition -- it is a need of the hour," added Firoze.
Currently, the country has a total of 14 high-rise buildings with height of more than 20 floors, of which six buildings were constructed in the past eight years, said Md Shafiul Bari, professor of civil engineering at Bangladesh University of Engineering & Technology (Buet).
The history of tall buildings in Bangladesh is only five decades old, with the trend starting in 1963 with the construction of the 11-storied WAPDA building at Motijheel, according to Bari.
Later, in 1983 another remarkable tall building -- the Shilpa Bank Bhaban -- was constructed, followed by the Bangladesh Bank building that goes above 30 floors, in 1985.
It preceded the way for the City Bank Tower, a 34-storied building constructed in 2006, and the City Centre at Motijheel in 2010, which, at 37 floors, is the tallest buildings in Bangladesh, said Bari.
"The construction of high-rise buildings radically increased in Asia in recent times," Bari added.
The distribution of tall buildings has changed radically with Asia now having the largest share with 32 percent, followed by North America at 24 percent.
In 1982 the distribution used to be 49 percent in North America and 20 percent in Asia, he said.
In fact, eight of the top ten tall buildings are now in Asia and only two, the Sears Tower and the Empire State Building, are in North America.
Traditionally the tall buildings served as commercial office space, but over the years, other usages, such as residential, mixed-use, and hotel tower development, have rapidly increased.
"Construction of tall building will continue to rise due to the significant economic benefits in dense urban land use," said Bari.
The construction of tall buildings, especially 20-25 floors, are rising in Dhaka and Chittagong, said Professor Munaz Ahmed Noor of Buet.
A sustainable tall building is one whose design team has achieved a balance between environmental, economic and social issues at all stages, including design, construction and operation, said M Shahidul Ameen, a professor at the architecture department of Buet.
A sustainable tall building can also be defined as one which emits no pollution to air, considers its impact on land and water, and can contribute positively to the local community, all the while being economically occupied.
Vertical transportation is one of the most challenging aspects of tall building services as it affects the efficiency of people's movements and contributes to overall energy consumption.
The initial cost for installing the mechanical and electrical equipments in a tall building, such as lifts, is often more than 25 percent of the total construction cost, said Ameen.
Superstructure and foundations generally account for 10 percent to 20 percent of the total cost, with the building envelope costing approximately the same, and internal finishes about half of that figure, he added.