Call for better labour relations
Transcom Chairman Latifur Rahman suggests sincere effort to improve working conditions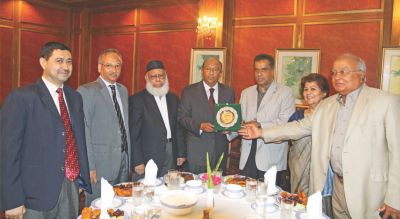 Winner of Oslo Business for Peace Award Latifur Rahman yesterday called for bringing about improvement in labour relations in industries for sustainable business.
He made the call at a reception hosted by Bangladesh Employers' Federation (BEF) at the Chamber building in Dhaka.
The appeal from Rahman, chairman of Transcom Group, came as the garment sector faces labour unrest.
"This has to be taken seriously," said Rahman, the first Bangladeshi to win the award, which is dubbed as the highest distinction given to a businessperson for outstanding accomplishments in ethical business.
He called upon entrepreneurs in the garment sector to rethink trade unionism, which he said is a part of sustainable business.
He said the BEF, which is also connected with the International Labour Organisation, should play a proactive role in improving labour relations.
Mahbubur Rahman, president of International Chamber of Commerce-Bangladesh, said Latifur Rahman has become the pride of Bangladesh and its business community by becoming a global icon of ethical business.
"It shows that business can be done properly by maintaining ethics," he said. Rokia Afzal Rahman, the immediate past president of the BEF, termed Latifur Rahman as a 'complete man', citing his engagement in both the corporate arena and family affairs.
"He is religious and honest," she said, "He is successful in business and happy with family," said Rokia.
"On the one hand, he is a corporate leader. On the other, he is a complete family man," she said. Latifur Rahman also responds to the issues and concerns of the business community whenever needed, said Rokia.
BEF President Md Fazlul Hoque said the federation will play important roles in settling the unresolved issues in the garment sector. He said the organisation played a vital role during the latest unrest in the sector.
Hoque also praised Latifur Rahman for doing business with honesty and integrity. He said Latifur Rahman successfully introduced and practised real corporate culture long ago.