Good yield of Amropali mango in CHT expected if weather favours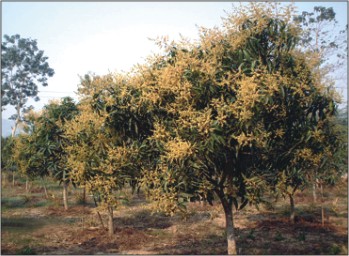 Massive budding of Amropali, a new variety of hybrid mango, is showing signs of a bumper production this year, to disbelieve of horticulturists in Chittagong Hill Tracts (CHT).
District Horticulture Office sources said the hybrid variety Amropali cultivation that began in hills eight years ago has opened up great prospects gradually for farmers at 25 hilly upazilas in CHT promising hefty gains.
The production of Amropali variety in hill districts this year may change the fate of CHT farmers, as there are massive budding on Amropali mango trees, Horticulture Department officials and farmers said. The hills with suitable soil and climate may be turned into mango orchards as in Chapainawabganj, they said.
The three districts level horticulture office sources said Amropali is now being cultivated in at least 3,000 small gardens and 146 larger ones in CHT comprising Khagrachhari, Rangamati and Bandarban hill districts, sources said.
Horticulturist Mizanur Rahman of Khagrachari Horticulture Centre said there are over 1,000 small and large Amropali orchards in Khagrachhari hill district. Most of the gardens are in Dighinala, Matiranga, Ramgour, Khagrachhari Sadar, Panchhari, Manikchhari, Mohalchhari and Laxmichhari in the district.
'Budding started early this year as flowering started within the bitter winter cold. The weather, temperature and soil are suitable for Amrapali cultivation in the (CHT) hills', he told this correspondent.
In a modest target, yield from gardens in Khargachhari may be over 1.5 lakh maund while about 90,000 maund in Bandarban and about 1 lakh maund in Rangamati district if weather remains favorable for two months more, horticulture office sources said.
The horticulture centre distributed about 70,000 Amropali plants in Khagrachhari, Rangamati and Bandarban districts in last three years while many people collected over 1 lakh Amropali plants individually, sources said.
But the gardens are facing the biggest threat of environmental pollution especially from brickfields. There are more than 140 brickfields in CHT and about 49 of them are situated in Khagrachhari. 'Smoke from the brick fields badly affects mango buds,' sources said.
'Moreover, its each kilogram price is usually Tk 20 more than other mangoes', farmer Mongshi Marma at Kongchairi Para said.
Darmika Tripura at Headman para under Sadar upazila in Khagrachhari said Amropali variety creates new hope for farmers in Khagrachhari. Within a short time farmers get benefits of its farming, she said.
Deputy Director of Agriculture Extension Office TM Monjurul Islam said as the weather and soil is appropriate and suitable for Amropali, they are trying to expand its cultivation. We need more production within limited lands, he said.