Infrastructure needed to attract global IT giants
Says Danish expert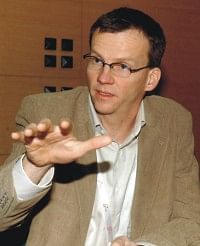 Bangladesh should go for a massive global marketing to introduce itself as an 'IT innovative nation,' observed a Danish information technology expert.
"The country also needs to develop a physical infrastructure like hi-tech park as early as possible to attract globally giant IT companies for opening up their outsourcing offices here," said Steffen Thomsen, head of projects of the Danish Federation of Small and Medium Sized Enterprises.
In an interview with The Daily Star Thomsen pointed out that Bangladesh needs a better image building campaign, as the outside world does not know the country well.
"One of the major challenge for Bangladesh's software industry in the global market is its reputation," he said, citing an example that most of the Danish consider Bangladesh as a flood-prone country rather than an IT-developed one.
When asked, the Danish expert also pointed to the fact that Bangladesh lags far behind the neighbouring IT giant India saying: "India can do what Bangladesh can't. Their business volume is big."
He, however, said Danish companies prefer to do business with their Bangladeshi counterparts because they think the small firms here 'more manageable' than the big outsourcing corporations in India.
For another reason, Thomsen went on, Danish IT firms are more interested in going into ventures with the firms here and that is cost effectiveness of Bangladesh IT products.
"Cost of developing a software in Bangladesh is half that in India, which could be an ample scope for Bangladesh to become a lucrative outsourcing market in the region," he said.
He also expected that the number of the Danish IT firms now tied up with the firms alike here could be doubled in the next three years because of such low production cost. Presently 16 Danish firms are working with their counterparts here.
Thomsen suggested that Bangladesh should immediately start a strategic plan to develop its IT infrastructure and skills of the professionals in order to tap the sector's huge prospect in the international market.
"If you want to compete on international market in specific areas like IT, you need to develop the sector," he said, lauding the local firms' spirit to innovate new ideas, which he think encourage the Danish companies to work with them.
Citing the example of Silicon Valley, the US high-tech business model, he said such physical infrastructure is needed for Bangladesh now. Because in such a site small companies will have the chance to grow with large companies, the Danish expert said.