<i>First Bangladeshi woman on Everest</i>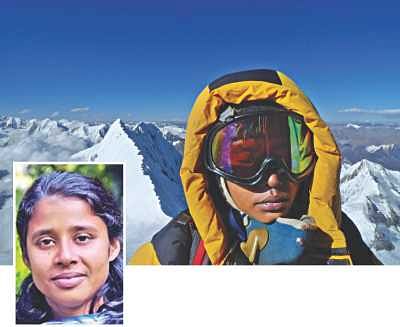 Nishat Majumder has become the first Bangladeshi woman to scale Mount Everest, the world's highest mountain.
She reached the summit at 9:39am Bangladesh time yesterday, Enam Ul Haque, president of Bangla Mountaineering and Trekking Club, told The Daily Star.
Three Sherpas -- Lakpa Sherpa, Premba Dorje Sherpa and Mingmaa Sherpa -- assisted Nishat in conquering the Everest, said the club president, while Bangladeshi mountaineer MA Muhit accompanied her.
"Pemba Dorje Sherpa has informed me of Nishat's reaching the summit of the Everest through mobile phone around 10:30am." They conducted the expedition though the Nepal (south) side of the Everest, he added.
Nishat, a 31-year-old accountant, on April 9 began her adventure from Kathmandu to the base camp of the Everest to hoist Bangladesh's flag atop the highest mountain of the world.
Mohit is the first Bangladeshi who scaled the Everest twice, as he earlier reached the summit on May 21 last year.
Musa Ibrahim was the first Bangladeshi to conquer the Everest on May 23, 2010.
Organised by the club, the adventure was co-sponsored by Plan Bangladesh, a non-government organisation (NGO), under a campaign titled 'Because I Am a Girl'.
Nishat left Dhaka for the quest on April 6, a press release of Plan Bangladesh said earlier.
Hailing from Laxmipur, Nishat completed her post-graduation from Dhaka City College and recently joined Dhaka Wasa.
In his immediate reaction, her father Abdul Mannan Majumder said, "Her (Nishat) success will encourage Bangladeshi women to come out of religious bigotry.
"We from our family always encouraged her in this job," said Mannan, also the cultural secretary of Bangladesh Muktijoddha Sangsad central council.
Enam said Nishat and her associates stayed a while at the peak of the Everest and started descending to the base came. "The mountaineers are expected to reach the base camp this morning and will return to Bangladesh by next Friday," said Enam.
Prime Minister Sheikh Hasina, opposition leader Khaleda Zia and Finance Minister AMA Muhith complimented Nishat on her success.
Meanwhile, Wasfia Nazreen, another Bangladeshi girl, has also reached the Everest base camp to scale the highest mountain.
A Facebook post by Wasfia yesterday said that her expedition had been hindered by heavy snowfall.
"My tent at camp 3 is gone by the lethal avalanche that severely injured two of the rope-fixing Sherpas earlier last morning! Their conditions are critical and one person is still missing," said the status. "This has, apparently, been one of the toughest years on Everest... Summit push super delayed."