Azad Absconding
Ex-NU teacher arrested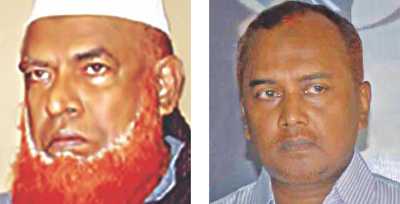 Rapid Action Battalion arrested a former National University teacher yesterday for allegedly assisting war crimes suspect Abul Kalam Azad, also known as Bachchu Razakar, to flee the country.
On March 30, Dr Abu Yusuf drove Azad to Hili land port in Dinajpur on a microbus, alleged Commander M Sohail, director of Rab Legal and Media Wing.
"He remained missing since Azad fled the country but on receiving information that Yusuf was back at his Agargaon residence, we arrested him yesterday around 11:00am" the Rab director said.
Yusuf, a former associate professor of National University was also a consultant of Mosque Council for Community and Advancement which was headed by Azad, he added.
The International Crimes Tribunal-2 issued an arrest warrant against Azad on April 3 for "collaborating with the Pakistan occupation forces and committing excesses during the Liberation War in 1971".
However, Azad went on the run several hours before the issuance of his warrant. Law enforcers hunted for him in various places and arrested his sons Faisal Azad and Jihad Azad and brother-in-law Kazi Ehtesham Ul Haque after being unable to find Azad.
Quoting the detainees, Rab officials said that Azad slipped into India through Dinajpur's Hili border on Apr 2 and has plans to enter Pakistan.