<i>Traditional sweepers face hard time as others take away jobs</i>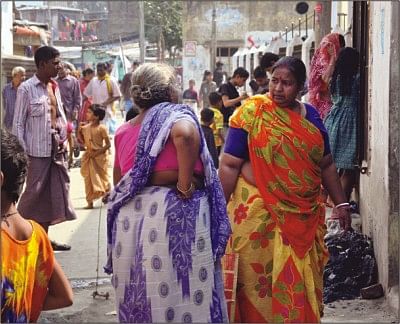 The professional sweepers are facing hard times as mainstream people are gradually replacing them in their only profession that is cleaning the city.
Considered as untouchables, a lower caste of the society, the sweepers now struggle to cope with the situation, as they have no other skills. They are deprived of many fundamental and basic rights, monetary solvency and social support.
"All sorts of filthy things and nasty smell are part of our lives and we clean them with bare hands. This is what we do every day," said Mina Rani, a resident of Ganaktuli sweeper colony in the city's Hazaribagh area, describing their regular job.
Kanpuri by origin, Mina Rani is a member of the sweeper community that has been traditionally engaged as cleaners, a very unpleasant but indispensable profession for society.
But things have changed in recent times.
"The job of cleaning the city wastes is now a matter of competition. Now we have to compete with others for an occupation that no one else ever wanted before," Mina added.
The traditional sweepers who now call themselves 'Dalits' are originally descendants of immigrants from Kanpur, Nagpur and Andhra Prodesh of India, brought here by the British in 1830s to provide all sorts of menial services for the colonial rulers.
Most of these people are Hindus. A few of them are Christians. They mainly speak Telegu, Kanpuri, Jabbalpuri, Hindi and a distorted form of Bangla adopted later.
There are no recent surveys on these people. However, according to a late 1990s survey of the United Nations, as many as 5.5 million Dalits were living in Bangladesh.
According to Bangladesh Dalit Human Rights (BDHR), an organisation working for the low caste people, around 32,000 sweepers live in Dhaka city. Among them, around 3,000 are employed by the Dhaka City Corporation for its cleaning and waste collection activities. The rest are employed by government and non-government agencies.
The sweepers live in 18 sweeper and Dalit colonies in the city. DCC set up such colonies at Ganaktuli, Dayaganj, Dhalpur, Sutrapur, Agargaon and Gabtoli embankment. Around 5,000 more live in 13 smaller settlements in Naryanganj and Savar.
Their job includes sweeping the streets and offices, clearing clogs in the sewerage lines, cleaning up manholes, water reservoirs, hospital wastes and handling unidentified dead bodies. Many of them are employed in crematoriums.
"This used to be my family's profession for the last 200 years since we were brought here from India. Cleaning is the only work we have learnt to do," said Shankar Das Pollati Apparo, president, Telegu Community Development Society.
"Today we are being replaced by the mainstream population. Mostly Muslims especially those who can pay bribes are taking over our job although there are regulations that jaat (traditional) sweepers should be given priority," he added.
"In the advertisements for appointing cleaners at DCC or any other organisations, it is always mentioned that jaat sweepers will be given priority. But in reality many from the mainstream people are being recruited ignoring the jaat sweepers," he said.
From 2006 to 2007 DCC recruited around 1,000 cleaners. But only 300 of them were from the Dalit community, sources said.
There used to be regulations that whenever a worker from the community dies or retires his or her family members are automatically employed to the post. This tradition is no longer being followed by any organisation, Apparo mentioned.
This trend is gradually eliminating the sweepers from their job.
With the increase of population and competition, thousands of able candidates from the community are sitting idle. On the other hand, it is very difficult for these people to change profession or get regular jobs even if they are educated and qualified.
The level of education among the community is still very low. Nowadays with the help of several non-government organisations the younger generation is opting for education. However, doubts remain what will happen when they finish school.
"Whenever the employers come to know that the applicant is from the sweeper community, they simply reject the application. It happened almost every time when anyone tried to get a different job," said Babu Lal Sarder, general secretary, Bangladesh Dalit Human Rights.
"Some of us often try to hide the identity to secure a job other than cleaning. But that doesn't work because a Dalit speaks a different language. His/her dialect or facial features often become the reason for rejection," he pointed out.
"Besides, they do not have a permanent address that the employers want to know," he said.
In addition to this, because of their isolated social status and lack of social security sweepers cannot go out of their community and join the mainstream workforce.
There is hardly any interaction between the Dalits and the mainstream people. Both sides consciously maintained a distance.
Moreover, members of the community live with a constant fear of eviction, as they do not have a home or a piece of land of their own. They do not own any property. Majority of the community lives in DCC provided settlements.
Community leaders complained that the authorities evicted them whenever they needed a piece of land. Pressure of influential people often led to the eviction of the community, they said and demand a permanent settlement for them.
"People in the mainstream society pretend that they don't have any problem interacting with people like us but in reality they would rather keep us out of their sight," said Katpelli Apparo from Gabtoli Telegu sweeper community, who was evicted from the Mohammadpur colony in February 2007 along with many others.
"Our community has been evicted from one place to another. We have been doing all the dirty work for generations but no one wants us to live with them," he added. "We could have changed our fate if we had property of our own. It would give us social security."
A wind of change however can be sensed among the new generation of the community. Although considered as untouchables, they are looking for a change and end of alienation.
The younger generation of the community is no longer prepared to accept the degrading work and lifestyle of their predecessors who had taken the fate for granted without any questions. They want to do something better than sweeping and cleaning.