Ilias Ali, driver go missing
BNP calls hartal across country for Sunday, in Sylhet for today; claims agency men picked up its leader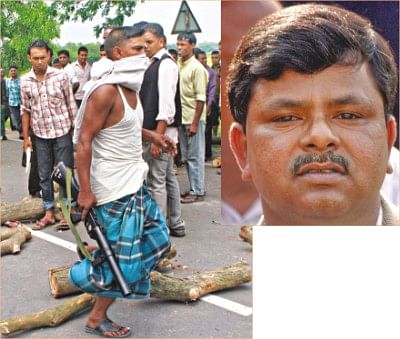 Former lawmaker and BNP Organising Secretary (Sylhet Division) M Ilias Ali along with his driver has been missing since Tuesday night while BNP claimed that government agencies have picked them up to make them disappear.
There has been sporadic violence on Dhaka-Sylhet highway yesterday as BNP activists barricaded the road for four and a half hours in protest. Vehicles were torched and around 20 people, including four policemen, were injured in clashes between police and BNP men.
The BNP has called for a dawn-to-dusk nationwide hartal for Sunday and Sylhet BNP has called for a division-wide dawn-to-dusk hartal for today.
Police, of Banani Police Station in the capital, recovered the abandoned car of Ilias, 48, near his Banani home around 1:30am yesterday. They found the driver's mobile phone on the passenger seat.
Locals told The Daily Star during a spot visit yesterday afternoon that they did not see anyone picking up either Ilias or the driver. They just noticed an abandoned car with all its doors flung wide open.
Sub-Inspector Maruf Ahmed of Banani Police Station said finding a phone on the passenger seat they dialled a number from the phone's call history. One Abed picked up and said that it was driver Ansar's number and that he drove for Ilias Ali's wife.
Police then contacted Ilias' family who went to the spot and confirmed that the car belonged to them. They said Ilias had gone out with the car earlier.
The white car had a Dhaka University sticker; Ilias' wife works for the university. It was slightly damaged in the rear as if it was rear ended or had reversed into something.
Gulshan Division Deputy Commissioner of Dhaka Metropolitan Police Khandker Lutful Kabir quoting Ilias' wife Tahsina Rushdir said she could not reach Ilias in the wee hours of Wednesday. Tahsina lodged a general diary with Banani Police Station yesterday morning.
Yesterday, she told The Daily Star that she was seeking Prime Minister Sheikh Hasina's intervention in finding her husband. She said, "We frequently see on TV the prime minister saying that as a person who has lost her family members and close relatives, she can feel the pain of those like her. The father of my children is now missing. I hope the prime minister will bring smiles on my children's faces back."
Ilias' son Labib Sharar, a student of class-X, told The Daily Star that his father left their home in Banani with the car and driver around 9:45pm Tuesday. He said Ilias usually returned home between midnight and 1:30am.
He said driver Ansar, 32, had been driving for them for only five or six years but he had been with the family for two decades. He said the family trusts Ansar.
Investigation officer Kazi Mainul Islam said police have sent messages to all stations across the country along with photographs of Ilias and Ansar. Other law enforcement agencies, including the Detective Branch (DB) of police, have also been alerted.
Khairuzzaman, a security guard of a flat building near the spot, told The Daily Star that he was on duty around Tuesday midnight. He and another guard saw the car abandoned an hour before police reached the spot.
Commander M Sohail, director of Legal and Media wing of Rab, told The Daily Star last night that Rab has been also investigating the incident.
BNP REACTION
BNP Chairperson Khaleda Zia alleged that a government agency and Rapid Action Battalion picked up Ilias Ali from his car. She asked the government to immediately return him.
"None of those who were involved in killings and disappearances will be spared and if necessary the issue will be taken to international courts," she told reporters addressing a press conference at Diploma Engineers Institution yesterday.
She claimed that some people witnessed personnel of law enforcement agency pick up Ilias but the agency did not inform the party or the family about his whereabouts.
She said they would resist such incidents. "Movement to oust the government will be forged if Ilias is not returned to us," she added.
During a meeting of BNP high-ups at Khaleda's Gulshan office last night, it was decided to call for the hartal for Sunday. Mirza Fakhrul told journalists about the decision after the meeting.
Earlier, during a rally in Sylhet, district and city units of BNP called for the division-wide dawn-to-dusk hartal for today. The BNP leaders there alleged that Sylhet city Jatiyatabadi Chhatra Dal Joint Secretary Iftekhar Ahmed Dinar was picked up by law enforcers on April 3 and he has been missing since.
BNP activists put barricades on the Dhaka-Sylhet highway which suspended road communications for nearly four and a half hours, reports our Sylhet correspondent.
They blocked different points of the highway in Bishwanath, South Surma and Balaganj upazilas of Sylhet.
The vehicular movement on the highway resumed around 2:30pm when police rushed to several spots and charged truncheons to disperse the demonstrators, said Shakhawat Hossain, the superintendent of police of Sylhet.
Police fired eight teargas canisters while the demonstrators damaged six vehicles.
Over 20 people, including four policemen, were injured in sporadic clashes at places on Dhaka-Sylhet highway during the blockade. Of them, Biswanath upazila correspondent of Bangla daily Inquilab, Mamunur Rashid Mamun, was admitted to Sylhet Osmani Medical College Hospital.
Pro-BNP Supreme Court lawyers in the capital also brought out a protest procession on the court premises around 1:00pm yesterday.
BNP acting secretary general Mirza Fakhrul Islam Alamgir and other party leaders and activists visited Ilias' home in the morning.
Home Minister Shahara Khatun, the inspector general of police and the commissioner of Dhaka Metropolitan Police went to Ilias' home around 10:30pm last night. They stayed there for an hour or so.
Shahara told the family that law enforcement agencies were not involved in the incident and she assured them of doing everything she could to find Ilias.
ILIAS' PROFILE
Born on January 1, 1961, at Ramdhana village under Biswanath Police Station in Sylhet, Ilias came under the spotlight during the autocratic regime of Ershad when he was studying at Dhaka University.
His name spread fast on campus as he was one of the top armed cadres of BNP-backed Jatiyatabadi Chhatra Dal. He had taken part in many armed battles among student groups and intra-party conflicts.
Ilias and 11 other students were expelled from Dhaka University in 1987 for violence on the campus.
Even after the expulsion, he continued to stay in Kabi Jashimuddin Hall and led a faction of Chhatra Dal rival to Chhatra Dal leaders Ovee and Niru.
He had been accused in several murder, arms and other criminal cases.
Ilias was elected Chhatra Dal general secretary during BNP's first tenure in 1991-1996. But the student body committee was dissolved within a few months as his faction of Chhatra Dal evicted the rival faction led by Ovee and Niru from campus. There were several murders on campus during that time.
Ilias was put behind bars for a while after the dissolution of the committee.
He became a lawmaker in 2001 from Sylhet-3 constituency.
Ilias grabbed more attention after his much-talked-about political rivalry against former finance minister late M Saifur Rahman.
After Saifur Rahman died in a car crash in 2009, Ilias' influence over greater Sylhet BNP increased.