Generating awareness on AIDS
Standard Chartered Bank to launch special TVC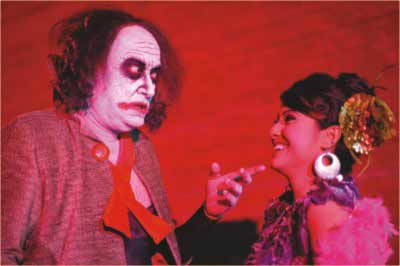 Internationally famed Bangladeshi mime artiste Partha Pratim Majumder has been featured in a social awareness campaign, titled 'Living with HIV'. The campaign by Standard Chartered Bank, Bangladesh (SCB) aims to generate public awareness on the scourge of AIDS in Bangladesh.
As part of its CSR, SCB actively campaigns against AIDS in more than 70 countries. In Bangladesh, SCB has conducted seminars at both public and private universities, addressing various stigmas related to the disease, prior to producing the TVC.
"As the prevalence of AIDS is a global reality, and Bangladesh too feels its impact, SCB has decided to make people aware of this deadly disease through this exclusive TVC. Globally renowned Bangladeshi mime maestro Partha Pratim Majumder has donned the lead role in the TVC, and noted filmmaker Amitav Reza has directed it," said Bitopi Das, corporate head of Standard Chartered Bank, Bangladesh.
"Every risky venture often meets a deadly outcome. In the TVC, I've been featured as a symbol of that fatality to alarm the urban youths of the outcomes of unsafe life decisions," said Partha Pratim Majumder.
Questioned on how this project will make an impact in Bangladesh, the artiste replied, "It is alarming that millions of people across the globe are getting affected by this lethal disease; and HIV is infecting more than 7000 people everyday. I believe SCB's campaign will have a positive impact on Bangladeshis."
"I have tried to depict the causes of AIDS, including sexually transmitted diseases, drug abuse and not properly monitored blood transfusion. Working with Partha Pratim Majumder has been a remarkable experience," said Amitav Reza.