Fuel oil prices hiked again
3rd hike in less than 4 months; effective from today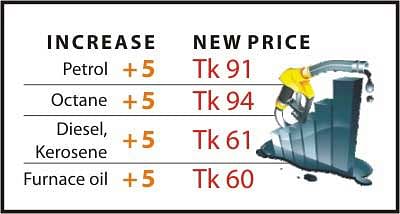 Yet again the government yesterday hiked the price of all fuel oil by Tk 5 per litre each, the second time in less than two months and the third in less than four months.
The increased price came into effect from midnight last night.
Through an order last night, the energy ministry increased diesel and kerosene prices from Tk 56 to Tk 61 a litre, petrol from Tk 86 to Tk 91, octane from Tk 89 to Tk 94 and furnace oil from Tk 55 to Tk 60 a litre.
On November 10, the government raised the prices of all fuel oils by Tk 5 a litre each. Earlier in September, the price of furnace oil went up by Tk 8 a litre while the prices of kerosene, diesel, petrol and octane by Tk 5 per litre each.
The ministry made the decision to reduce subsidies on imports of petroleum products, experts said.
At present, the government spends Tk 20,000 crore every year on fuel subsidy.
Before last night's hike, the government was counting subsidies of Tk 16.39 for diesel per litre, Tk 16.31 for kerosene and Tk 4.97 for furnace oil.
The latest hike in prices will have a bad impact on people's daily spending.
The hike comes at a time when the government is under pressure to meet the cost of energy subsidy through heavy bank borrowing.
Following the November 10 hike, the International Monetary Fund (IMF) on November 21 recommended that the government increase fuel and power prices further.
"I think the trade-off that we have reached at this moment is because of the fast increasing subsidy cost. To contain these subsidies, I think the only way is a gradual adjustment of prices," said Eteri Kvintradze, resident representative of IMF, at a press briefing in her Dhaka office.
Demand for fuel oil rose to 68 lakh tonnes in the current fiscal year, which was 48 lakh tonnes in the last fiscal year, as Bangladesh is importing a huge amount of oil to feed its rental and quick rental power plants.
In the last fiscal year, Bangladesh Petroleum Corporation counted a loss of Tk 8,200 crore on fuel subsidy.