Dawn joins Asia News Network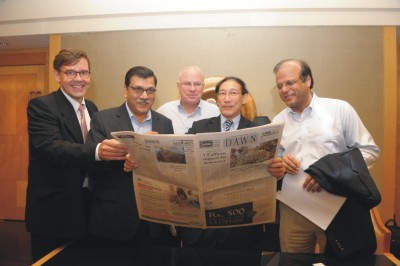 Dawn, a leading daily in Pakistan, has joined Asia News Network (ANN) as a full member. Dawn's admission completes representation from five South Asian members and brings the total ANN membership to 21 in 18 countries, said a press release.
Zaffar Abbas, Dawn's Editor, signed the membership agreement with ANN at the Ritz Carton Hotel in Singapore on November 25. Pana Janviroj represented ANN in his capacity as executive director.
Dawn is Pakistan's oldest and most widely read English-language newspaper. The newspaper's headquarter is in Karachi and is published simultaneously from Karachi, Lahore and Islamabad. It has a daily circulation of over 100,000 copies.
Dawn Media Group also operates a 24-hour news TV channel called Dawn News, and publishes a number of journals, the most prominent of which is monthly political magazine called Herald.
"I am pleased to be among my Asian peers to work together in fostering journalism and build up network in the region," said Abbas.
Pana expressed delight at the admission of Dawn which will strengthen ANN as the world's leading media publishing alliance.
Other ANN editors presented at the signing ceremony, held on the sideline to the Holcim Sustainable Construction Awards, were: Mahfuz Anam, Editor of the Daily Star in Bangladesh; Ravindra Kumar, Editor of The Statesman, India; Zacki Yesbbar, News Editor of the Island, Sri Lanka; Meidyatama Suryodiningrat , Chief Editor, the Jakarta Post, Indonesia; Nguyen Tien Le, Vietnam News' Deputy Editor-in- Chief ; Noel Velasco, News Editor at the Philippine Daily Inquirer; David Yeoh, Deputy Chief Editor, The Star, Malaysia; and Zhou Li, Editor-in-Chief, China Daily Asia-Pacific.
Other witnesses were Linnarz Paul, director of Media Program at Konrad-Adenauer-Stiftung, Singapore; Paul Hugentobler, Member of the Executive Commitee, Holcim, Zurich; Peter Gysel, Deputy Head Corporate Communications, Holcim, Zurich; Edward Schwarz, Holcim Foundation, Zurich; and Christian Klick, Star Alliance, Frankfurt.
ANN was founded in 1998 to provide avenues for cooperation among Asian press under the motto "We Know Asia Better". The members are China Daily and China Post (China), Yomiuri Shimbun and Daily Yomiuri (Japan), The Island (Sri Lanka), The Statesman (India), The Korea Herald (South Korea), The Straits Times (Singapore), The Nation (Thailand), Vietnam News (Vietnam), The Daily Star (Bangladesh), the Philippine Daily Inquirer (Philippines), The Jakarta Post (Indonesia), The Star and Sin Chew Daily (Malaysia), The Kathmandu Post (Nepal), Vientiane Times (Laos), Rasmei Kampuchea (Cambodia), Brunei Times, Kuensel (Bhutan) and Dawn (Pakistan).