Sayedee in the Dock
Hindus attacked, raped
Prosecution tells tribunal about his links to war crimes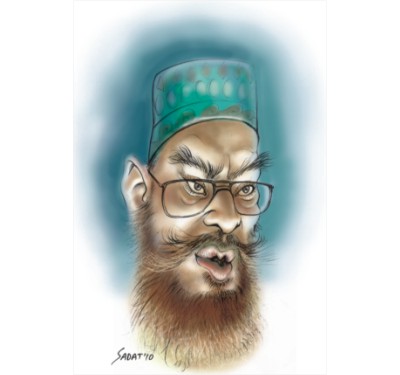 Delawar Hossain Sayedee along with other collaborators kept a Hindu girl confined to her father's house at Parerhat in Pirojpur and raped her day after day during the Liberation War, the International Crimes Tribunal was told yesterday.
The victim, Bhanu Shaha, daughter of Bipod Shaha, left the country after liberation out of fear of public humiliation. She still lives in India, said Syed Rezaur Rahman, a senior prosecutor, while placing the opening statement against Sayedee.
In the tribunal's first trial since its formation on March 25 last year, the prosecution on Sunday got through 61 pages of the statement in court.
Yesterday, Rezaur read out the remaining 27 pages before the three-member panel of judges headed by Nizamul Huq.
On October 3, Jamaat-e-Islami Nayeb-e-Ameer Sayedee, one of the seven Jamaat-BNP leaders detained over war crimes links, was charged with 20 counts of crimes. The charges include genocide, murder, rape, arson, abduction and torture of civilians.
The tribunal will start taking depositions of witnesses on December 7.
Rezaur described the crimes against humanity allegedly committed by Sayedee in 1971 and also the background of the case.
He told the tribunal that Sayedee had led a 50-member team of the Razakar Bahini, an anti-liberation force, in attacking Hindu Para of Hoglabunia under Pirojpur.
Sensing the presence of the miscreants, members of the Hindu community had managed to flee.
The razakars, however, got hold of Shefali Gharami, wife of Madhusudan Gharami, and raped her.
Shefali gave birth to a baby girl after the war but, like Bhanu Shaha, she had to leave for India.
On May 5, 1971, Saif Mizanur Rahman, deputy magistrate of then Pirojpur Sub-Division; Foyezur Rahman Ahmed, sub-divisional police officer and father of famed writer Humayun Ahmed and noted educationalist-writer Muhammad Zafar Iqbal, and Abdur Razzak, SDO in charge of Pirojpur, were taken to the Baleshwar river bank and shot to death.
Sayedee as a member of the killing squad was present there.
Under his pressure, some 100-150 Hindus of Parerhat and other villages converted to Islam and had to go to a mosque, said the prosecutor.
He oversaw the creation of a fund with cash and other property looted by the razakars from the locals, mainly Hindu families. He also issued a Fatwa (religious edict) legalising war booty, said the prosecutor.
He also succeeded in allying himself with the Pakistan army, as he had a good command of Arabic and Urdu.
Sayedee went into hiding after the war but returned to his home district of Pirojpur in 1986. In the guise of an Islamic scholar, he began addressing waz mahfils or religious gatherings to hide his past, Rezaur said.