Jagannath Hall tragedy day observed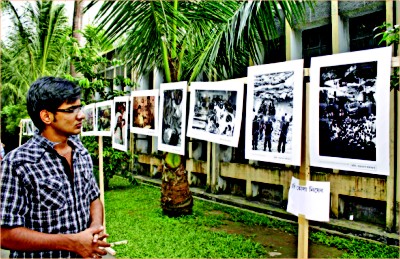 Several hundred students, teachers and employees of Dhaka University (DU) yesterday wore black badges, observed a one-minute silence and brought out a mourning procession in memory of the victims of the 1985 tragedy in Jagannath Hall.
On October 15, 1985, the roof of the hall's assembly building (now October Smiriti Bhaban) collapsed on students and employees who were watching television, claiming 39 lives.
DU authorities hoisted black flags, kept the university flag at half-mast and arranged special prayers in observance of the day.
DU Vice-Chancellor Prof AAMS Arefin Siddique, Pro-VC Harun-Or-Rashid, and hall Provost Prof Ajoy Kumar Das placed wreaths at the October Memorial Plaque.
The VC said the DU family remembers the victims of the tragedy with deep respect and sorrow. The government should allocate adequate funding for the construction of new buildings to avoid such tragedies, he said.