Bangladesh and India's Northeast: A security perspective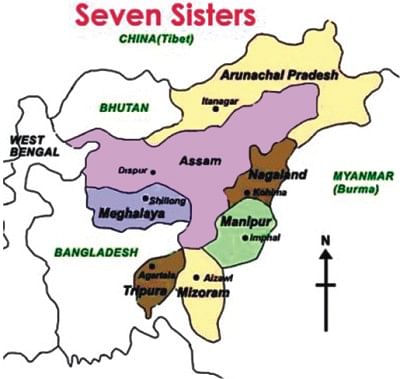 The importance of geo-strategic and geo-economic considerations between northeastern states of India and Bangladesh has played a significant role in determining the relationship between the two countries. Bangladesh shares 1879 km border with the Northeastern States (NES) of India- Tripura 856 km; Meghalaya 443 km, Mizoram 318 km, and Assam 262 km. Internal developments and upsurges on either side of the border have a tendency to spill over into Bangladesh and India, especially in the bordering states of West Bengal and NES. This geographical location and proximity not only open up opportunities for mutual development, it also creates many stumbling blocks in the bilateral relationship. The porous nature of the border between Bangladesh and NES of India has proved to be conducive for drug trafficking, arms smuggling, illegal trade, and migration, which negatively impact on bilateral relations. These security concerns have prevented bilateral relations from realizing their full potentials.
Terrorism is one of the pressing issues affecting the relationship between Bangladesh and India, given the long drawn insurgency movements in various states in the Northeastern parts of India. Indian concern, about using Bangladesh territory as a base by the insurgent groups of north east, was largely mitigated by the stern actions taken by present government in Bangladesh. These commendable actions against the terrorists, taken by Bangladesh, have contributed to opening up a new era of cooperation between the two countries. But the Indian side is yet to take any effective measures to reciprocate these commendable initiatives taken by Bangladesh on countering terrorism. It was reported that Bangladesh stressed on the issue of handing over the notorious criminals now hiding in India and sent India specific information of around 50 criminals and their hideouts there.
The spread of small arms and drugs has become a major problem particularly in the border regions of Bangladesh. A recent study on "Community Security in North Bengal: A Youth Perception Survey" conducted by the Bangladesh Enterprise Institute (BEI) in association with Saferworld, UK, found that small arms and drugs, particularly phensydyl were available in the North Bengal districts, which has a direct effect on the country's social, economic and political problems. It was also found that transnational criminal groups, in connection with local criminals, were engaged in smuggling arms and drugs in Bangladesh. Media reports revealed in Bangladesh that the present government has already strengthened oversight mechanisms in boarder areas to arrest any kinds of smuggling of illegal consignments for the insurgents operated in the north eastern states of India.
At a two-day talks held in Dhaka in March 2011, between drug control nodal agencies of Bangladesh and India at the Director General level, sources close to the meeting revealed that the Bangladesh side handed over to the Indian team a list of 51 factories operating inside their country including some close to the border of northeastern states of India which produced phensidyl only targeting Bangladesh as its market. The phensidyl produced in those factories, set up by the Indian businessmen, are being smuggled into Bangladesh by organized cross border syndicates.
Killing of Bangladeshi citizens by the Border Security Force (BSF) of India in the border zones is another issue of tension in the relationship between Bangladesh and India. Between January 1, 2000 and March 31, 2011 BSF killed 907 unarmed Bangladeshis, said Odhikar, a human rights body in Bangladesh. Though Indian authorities have already undertaken substantive steps to put pressure on BSF; which reduced death toll down to Zero in March 2011, killing of Bangladeshi nationals has not yet been stopped. Odhikar recently claimed that BSF had killed 21 Bangladeshi citizens, injured 51 and kidnapped 12 others during the January-September period of this year.
The barbed wire fencing, constructed by India on Indo-Bangladesh border, is considered by many security experts in Bangladesh as an unfriendly act which might become a psychological barrier in the way of promoting mutual trust and confidence between the two countries. The rational of Indian authorities for constructing this fence is for control of illegal migration, movement of terrorists and arresting smuggling in the northeastern part of India. It is also being noted that India's concern of illegal migration into the northeastern states of India is blatantly denied by Bangladesh.
Given the present state of harmonious relationship, it is now high time to address each other's core demands with a pragmatic approach and prudent vision and take actions to find out viable solutions of long standing unresolved issues in order to make this relationship irreversible. Therefore, the divergent views of India and Bangladesh to understand security issues need to be synchronized for the mutual benefit.
Both the countries have their own look east policy, but the success of their policies is strongly dependent on solid bilateral relations based on multifaceted economic and political cooperation. Only active engagement and connectivity of the two countries would help in transforming relations from the present state of mutual suspicious to one of mutual benefit and mutual trust. Bangladesh and India, therefore, should consider the issues from a pragmatic view to reach consensus on contentious bilateral issues as well as to further strengthen this relationship to a new horizon of development. A long standing durable relationship between the two countries is necessary to promote connectivity between Bangladesh and Northeastern states of India.
The writer is a Research Officer, BEI.