Karam Puja celebrated in Thakurgaon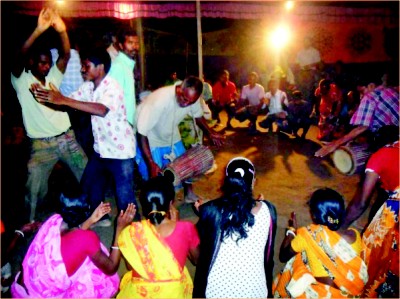 The two-day 'Karam Puja' (a major festival of the Orao community, from the northern districts of Bangladesh) was celebrated on September 18 and 19 in Thakurgaon district.
Thakurgaon Karam Festival Celebration Committee held a discussion, cultural programme and prayers on the occasion.
Deputy Commissioner of Thakurgaon, Muhammad Shahiduzzaman, inaugurated the festival as chief guest in Thakurgaon Sadar upazila. Superintendent of Police, Md. Shah Alam; Thakurgaon Sadar upazila chairman, Sultanul Ferdous; Upazila Nirbahi Officer, Touhidul Islam and executive editor of the local daily Lokayan, Professor Montosh Kumer De, were special guests. Convener of Thakurgaon Karam Festival Celebration Committee, Alfonso Kerketa was in the chair.
Young Orao girls observed a dawn to dusk fast on the first day of the festival. In the evening special dishes for guests and kinfolk were served.
Later the girls fetched branches of the Karam tree from the vicinity in a colourful procession, while boys and girls sang and danced to the beats of drums.
At sunset an altar was built, where they planted the branches of the Karam tree. During the ritual, young men and women danced around the altar. Then began the puja where the priest recited verses explaining the significance of the festival, which according to researchers is celebrated by indigenous people to express their affinity with nature. They also prayed for happy conjugal lives. The festival ended the next day with the immersion of branches of the Karam tree in the Tangon River.
Babul Tigga, general secretary of district unit of Jatiya Adibashi Parishad (an organisation of indigenous communities) said that the festival is celebrated in Pachpirdanga, Jagannathpur, Gobindanagarh and Chandipur villages of the district.
China Ram Tirki, leader of Orao community of Jagannathpur village, said that Karam is one of the major festivals celebrated by the 37 indigenous families of the village. "Though our unique culture seems headed towards extinction, we want to preserve the traditions and heritage for generations to come," he said.