Manmohan pays tributes to Bangabandhu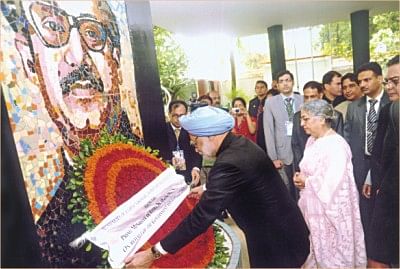 Indian Prime Minister Dr Manmohan Singh yesterday paid rich tributes to the Father of the Nation Bangabandhu Sheikh Mujibur Rahman as he visited Bangabandhu Memorial Museum at Dhanmondi in the city.
Manmohan accompanied by his wife Gursharan Kaur reached the historic House No-32 at Dhanmondi at 12:55pm amid tight security and placed wreaths at the portrait of Bangabandhu, who liberated Bangladesh from the Pakistani occupation in 1971.
After placing the wreaths, the Indian leader stood in solemn silence for some time as a mark of respect to the memory of the great leader.
Later museum's curator Syed Siddiqur Rahman escorted Manmohan to different corners of Bangabandhu's historic residence, which subsequently turned into the museum.
The Indian premier first visited the ground floor of the two-storey ordinary building and saw the rare pictures of Bangabandhu, his young leadership, hard struggle for independence and meeting with statesmen from all over the world, including late Russian President Leonid Brezhnev and late Indian Prime Minister Indira Gandhi.
Seeing all the pictures on the ground floor, Manmohan walked to the first floor of the building and witnessed the simple living style of a statesman, who not only placed Bangladesh as an independent state in the world map, but also earned high laurel from allover the world.
The Indian prime minister saw the photos and memorabilia of Bangabandhu and his family members very attentively when the curator of the museum was briefing him.
Before leaving the museum, Manmohan signed the visitor's book and was presented with some books and an album on Bangabandhu by the curator of the museum.
"Bangabandhu Sheikh Mujibur Rahman led his people in their struggle for liberation through his inspired and courageous leadership. I pay homage to a great visionary and statesman who laid a firm foundation for an independent, strong and proud Bangladesh," he wrote in the book.
LGRD and Cooperatives Minister Syed Ashraful Islam, Food Minister Dr Abdur Razzak and Adviser to the Prime Minister Dr Modasser Ali were present on the occasion.