<i>Aid for war widows, finally</i>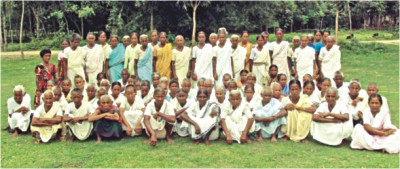 After 40 years of independence, the government has taken initiative to give financial assistance to around 500 women who lost their husbands in the hand of Pakistan occupation army and their local collaborators at Jhatibhanga village under Thakurgaon Sadar upazila during the Liberation War.
As part of the step, 89 'war widows' in four unions of Thakurgaon Sadar upazila have been selected for giving Tk 2000 each as 'primary financial assistance' under the ministry concerned in the first phase.
Twenty-two of the women received cheque for Tk 2000 each on the premises of Shukhanpukhuri and Gorea union parishads on Tuesday afternoon.
Upazila Chairman Sultanul Ferdous and Upazila Nirbahi Officer (UNO) Touhidul Islam distributed the cheques.
However, it could not be ascertained whether the assistance is for one time or continue on a monthly basis.
The war widows demanded arrest, trial and punishment of the killers of their husbands.
On 17 April in 1971, thousands of people from Jagannathpur, Gorea, Shukanpokhori and Balia unions under present Thakurgaon Sadar upazila, mostly from minority communities, left their home to cross the border for India as living in their villages became risky.
When they reached Jhathibhanga village, the sun was setting down. They decided to spend the night there and start next morning.
But by the time 'razakars' (local collaborators of the Pakistani army) came to know about their presence and informed the Pakistani army who rushed to the area and encircled the fleeing Bangalees.
Making the male people stand in queues, Pakistan army and razakars killed around 3,000 men by shooting and hacking.
They were buried in a mass grave at Jhatibhanga.
Several women, including Tulo Rani, Dukhuni, Ananta Bala, Sadamoti and Bharati of Jagannathpur village, who witnessed the gruesome killing of their husbands at Jatibhanga, demanded arrest, trial and punishment of the killers.
"Eighty-nine war widows have been given assistance in the first phase. About 500 women, who lost their husbands during Jhatibhanga massacre and are still alive, will be brought under the programme gradually," UNO Touhidul Islam said.