Zurkhaneh underway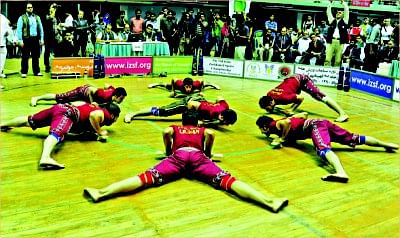 The 3rd Asian Zurkhaneh Sports and Koshti Pehlevani Championship began yesterday at the newly-built Wooden Floor Stadium with ten team event matches being decided on the opening day.
A total of 12 countries -- Iran, Iraq, India, Afghanistan, Chinese Taipei, South Korea, Tajikistan, Nepal, Thailand, Indonesia, Philippines and hosts Bangladesh -- are taking part in the tournament.
Home Minister Sahara Khatun, also the chief adviser of the meet's organising committee, inaugurated the three-day meet. Shipping minister and chairman of the organising committee Shajahan Khan was also present at the one and a half hour long colourful opening ceremony.
Bangladesh Amateur Wrestling Federation has organized the heavyweight meet, the first of its kind in the country, in association with International Zurkhaneh Sports Federation (IZSF), Asian Zurkhaneh Confederation and Iranian Cultural Centre in Dhaka.
Representatives of other 13 countries -- Ukraine, Estonia, Latvia, Poland, Uganda, Tanzania, Russia, Kenya, Germany, Finland, Lithuania, Belarus and Nigeria -- will attend the World Congress of IZSF to be held on Saturday in Dhaka along with the 12 participating nations.
The 11-member Bangladesh team, which earlier took part in both the first Asian meet in Iran in 2006 and the 2nd meet in Nepal in 2008, but failed to earn any medal, is taking part in the tourney with a hope of clinching at least one medal.