"Daruchini Dwip" on Channel-i today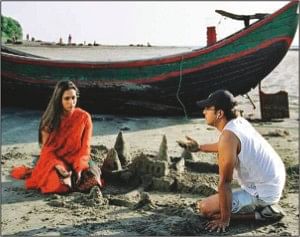 The much-hyped film Daruchini Dwip will have its world premier today at 2:40pm on Channel-i.
The film is based on Humayun Ahmed's popular book with the same title.
The movie generated buzz for its link with last year's LUX Channel-i Super Star'06. Winner of the contest, Momo, won the lead role in the film.
The story of the film revolves around a group of adventurous university students who decide to go to Daruchini Dwip aka St. Martin's Island. On the way, they encounter several hurdles.
Shubhro, sole heir to a rich family, who has rarely done something on his own, has very little idea about the harsh reality outside the comforts of his home. When he decides to be a part of the trip to St. Martins, his father becomes wary and tries to prevent him from going there. Jori's father is physically disabled. The family lives in her uncle's house. The uncle is all set to marry her off to an affluent groom who is far from what Jori wants in a husband. Other characters in the film include Shonju, Muna and Boltu, who have their own predicaments. In the end everyone faces their obstacles and set off on their journey to Daruchini Dwip.
The two central roles of the movie -- Shubhro and Jori -- are played by Riaz and Momo. Abul Hayat, Asaduzzaman Noor, Fazlur Rahman Babu, Afroza Banu, Abdullah Al Mamun, Dolly Zahur and Wahida Mallick Jolly have played other central roles.
Produced by Impress Telefilm Ltd, the film is directed by Tauquir Ahmed.