Business Life
A night to recognise business luminaries
The Daily Star and DHL Express celebrate the 11th year of awarding excellence in business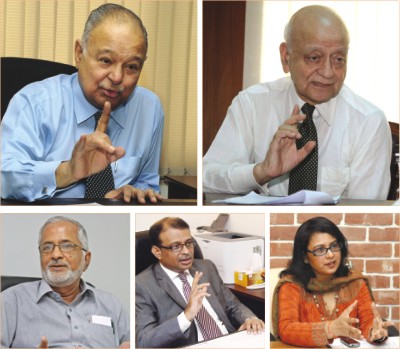 Business person of the year
Amjad Khan Chowdhury, chief executive officer of Pran-RFL Group, provides an example that innovations, however simple, are at the heart of success in business.
A simple idea of making agro-processed foods in 1991 turned him into an employer of 30,000 people across the country. The company generated Tk 2,600 crore in gross revenue in 2009-10, but Chowdhury was never complacent and set the target higher at Tk 4,000 crore for fiscal 2010-11.
More than 64,000 farmers are working with the company to supply goods for processing. It exports products to 75 countries around the world.
For Chowdhury, now a leading businessman, the beginning was far from smooth. He tried his luck on business by setting up a light-engineering business in Rangpur, but it did not run well. Then he scoped out for a new venture after retiring from Bangladesh Army in 1981.
He bought six acres of land in Ghorashal in Narsingdi and planted fruits and vegetables to sell to local markets. Again, the project did not pay off well, as he could hardly make profits from sales of agricultural produce.
So, he switched to a new idea and converted agricultural produce into agro-processed foods, as there was no major local market player in the segment.
In the late 1980s, he bought some agro-processing machinery, including boilers, on auction from a government office. He set up a plant in Narsingdi and started processing tomatoes, green mangoes and made pickles at the factory.
Born on November 14, 1940 in Natore, Chowdhury studied at St Gregory's School in Old Dhaka. After his secondary education, he joined Pakistan Army.
Chowdhury is the president of Metropolitan Chamber of Commerce and Industry.
Lifetime achievement award
Friends and colleagues call him a "doyen of banking". M Matiul Islam is an endearing name among his peers. He made a clear mark in the nation's financial sector and built a towering profile that dwarfs many others around him. His career that spans six decades stands out with high points of achievement. It started with the Civil Service of Pakistan in 1952. Matiul Islam, now 81, is still a taskmaster -- the chairman of IIDFC, a leading non-bank financial institution.
In 1972 when the shadows of the Liberation War were lingering on the economy, Matiul Islam was handpicked as the nation's first finance secretary by none other than Bangabandhu Sheikh Mujibur Rahman. He had been tasked with building a banking system, the first step to inject an impetus into the war-ravaged economy. Guided by a new government's mandate for nationalisation, he merged 12 banks into six. When many said the new country, Bangladesh that is, would not last long, he pressed on with his mission -- to build a strong banking system. A personal vision statement -- "Bangladesh will survive, if banks survive" -- carried him forward. Today, he does not shy away from admitting that he exerted a total control over the six banks, without appointing a chairman to any of them. Those state banks were free from political influence and performed very well, he recalls.
In the world of private banks as well, Matiul Islam is a pioneer. The first private bank, Arab Bangladesh Bank, now AB Bank, was his creation.
There was a long pause -- 12 years -- in his career in the financial sector at home, but he was active abroad, serving the United Nations, World Bank and other organisations from 1981 to 1993. When he came back home, he picked up his earlier thread in his life by setting up International Leasing and Financial Services Ltd, followed by National Housing Finance.
Outstanding woman in business
Seventeen years ago she started it small with a small investment that could only buy her a computer, some stationeries such as tracing paper, drafting pen and some books on architecture.
Today architect Tanya Tazeen Karim is one of the country's very few women entrepreneurs who not only earned fame at home and abroad as well. Her designed buildings stand tall in countries like UAE and China.
Tanya formed a partnership with a classmate soon after graduating from Bangladesh University of Engineering and Technology in 1990. Three years later their firm Tanya Karim NR Khan & Associates was officially registered.
When she started, she even could not rent an office and had to start from a room in her in-law's house. Initially, she designed buildings for relatives and friends. Gradually people found her works interesting.
Her major breakthrough came in 1993 when Tanya and her group designed the interior of the headquarters of Beximco Pharmaceuticals.
Since then, she has not looked back.
Her company also does interior, landscaping, master planning and graphic designing to make Tanya Karim NR Khan & Associates a one-stop service centre.
Her firm has designed the building of Bhutan Telecom and also a mosque in India. Those work orders were won through stiff competition.
The firm has also designed buildings in the United Arab Emirates, Malaysia and China, as it aspires to become a globally recognised design house, said Tanya. "We have also designed a vacation home in Canada," the 47-year-old said.
Her clients include local and multinational companies, banks, and even leading businesspeople, who want their residential buildings stand out in the sprawling city.
Seventeen years on, Tanya now has a well-furbished office, fully owned by her firm in Dhanmondi. About 60 people work for the firm on a regular payroll, with another 150 working on contract basis.
Best financial institution of the year
There are a lot of banks around with swanky buildings and smart decorations. Among them Eastern Bank Limited (EBL) looks quite simple. But it has proven that being glamorous is not all. Rather solid management, quality service and staff satisfaction are the answer to prosperity in banking.
Over the past 19 years, EBL has climbed up to the peak and established itself as a strong financial institution with efficient and cost effective delivery.
All the business indicators of the bank are on solid standing. It is among the top rated banks as far as CAMELS rating (Capital adequacy, Asset quality, Management, Earnings, Liquidity and Sensitivity to market risk) is concerned.
The bank's deposit has doubled to Tk 5,642 crore between 2007 and 2010. Similarly, its loans and advances almost doubled to Tk 5,860 crore in 2010 from Tk 3,096 crore in 2007, thanks to the leadership of Ali Reza Iftekhar, EBL managing director.
EBL's profit after tax grew by 66.70 percent in 2010.
The bank, led by its chairman Mohd Noor Ali, has successfully reduced its non-performing loans to 1.99 percent of total advances in 2010 from 2.46 percent a year ago. Its earning per share (EPS) increased by around 70 percent and cost to income ratio stood at 32.10 percent, one of the lowest in the industry. The bank's credit rating increased to AA in 2010 from AA- in 2009.
In the past couple of years the bank came up with several new products and service propositions, including priority banking, travel related products, life insurance covered DPS, platinum credit card, SME debit card and mobile-based remittance service. EBL also have a strong foothold in SME banking and has opened a dedicated cell for women entrepreneurs.
The bank's operating profit per employee is Tk 4.53 million, the highest in the country. It is one of the biggest players in syndication financing. In the last five years, EBL has closed syndication deals worth more than Tk 1,500 crore.
Enterprise of the year
Two intrepid businessmen Taherali Africawala and Akberali Africawala ventured to set up the first steel rolling mill of the country in Nasirabad, Chittagong. The birth of the company carries a historical connection: it took shape in 1952, the year of the historic Language Movement.
The 1947 partition had deprived Bangladesh (the then East Pakistan) of its steel and construction materials source. The venture was the first attempt to fill the gap.
As the country's first steel mill, BSRM Group has been serving the country's growing manufacturing and real estate sector for nearly 60 years.
The company led by its chairman, Alihussain Akberali, has been relentlessly working to diversify its products to meet local demand over the years, and gradually become the market leader.
BSRM Steels Ltd, the flagship company of the group, and the country's only manufacturer of 500-grade steel rod, started its operation in June 2008 with an annual production capacity of 3.75 lakh tonnes of steel rods.
Built on 11 acres, the Tk 370-crore project is one of the largest mills of its kind in South Asia and the largest engineering industry in the country, which started manufacturing in March 2009.
BSRM branded its products as 'xtreme brand', which soon became popular in the local market as it started saving the cost of construction. At present, the company produces several steel items, including TOR steel, MS angel, MS channel, shaft wire, rod, beam, rail and spring steel.
BSRM Steels was listed on the capital market in January 2009. The company posted Tk 875.74 crore in annual turnover in 2010, according to the Dhaka Stock Exchange. Last year, it earned a net profit of Tk 96.48 crore, according to DSE data.
The company moved to expand its production capacity to five lakh tonnes a year from its present capacity of 3.56 lakh tonnes.