A nation finding its way . . .
Syed Badrul Ahsan re-reads accounts of a formative era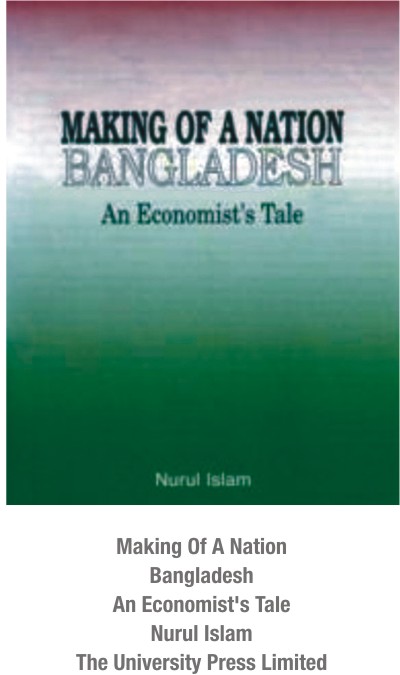 Forty years into Bangladesh's independent statehood, it makes sense to travel back in time and reflect on some of the pioneering work which went into the making of the state. Nurul Islam was one of the men who played a quiet yet formidable role in advancing the Bengali cause through his assessment of the economics that needed to underpin the idea of, first, regional autonomy for East Pakistan and, second, full sovereignty for Bangladesh. With him there were Anisur Rahman, Rehman Sobhan and Mosharraf Hossain, men who shared his view that Pakistan's Bengali province, being geographically removed from its western half and, more significantly, characterised by clear socio-cultural differences with Islamabad, could legitimately lay claim to a different, more attuned to reality sort of economy.
The story of how Nurul Islam and his fellow Bengali scientists came to link up with the Six Point movement for regional autonomy, spearheaded as it was by Bangabandhu Sheikh Mujibur Rahman, comes through in his exhaustive 'Making Of A Nation: Bangladesh: An Economist's Tale.' Of course it is not a new work, seeing that it first appeared eight years ago, with a reprint (all by The University Press) a few years later. Islam spent the period of the War of Liberation in the United States, galvanising the individuals and groups he thought could and would influence the course of events in war-torn Bangladesh. His links with the West, primarily through the World Bank and the International Monetary Fund, were what he based his work on. He knew Robert McNamara, about whose fraught relations with Tajuddin Ahmed he has much to say in this work. Indeed, there is much that Islam, as an insider in those early days of the struggle and those immediately following it, reveals here.
It became Nurul Islam's job, once Bangladesh stood liberated and Bangabandhu Sheikh Mujibur Rahman returned home from Pakistani captivity, to take charge of the planning commission as its first deputy chairman. The chairman, of course, was the prime minister. In a country born of a bitter war, with tens of thousands dead and an entire population wallowing in misery, it was a hard job for the government to go about doing business as usual. But, again, those insurmountable odds Bangabandhu and his colleagues faced were to be overcome in the first three years. Forty years on, it is fairly easy for scholars and analysts of Bangladesh's history to go fault finding with the nation's first post-liberation government. But that a difference was made by that government --- and Nurul Islam was one of the paramount players at the time --- can never be in doubt. The realities were all out there. No one among the political leadership, apart from Sheikh Mujibur Rahman, had ever held a position in government before. Overall, it was one of those rare moments in history when the provincial outpost of a country found itself, through a tortuous, pretty dramatic struggle, in the position of a free country.
Bangladesh, as Islam notes with fascinating detail in his work, did find a toehold in its search for a niche on the global arena. It became part of the Bretton Woods institutions; it went into the United Nations despite relentless opposition to its membership; and it did, thanks to the pragmatism demonstrated by Sheikh Mujibur Rahman, find new alignments in its foreign policy. The rift between Mujib and Tajuddin clearly saddened Islam, for he was close to both these political giants, an association which went back to the mid-1960s when an embryonic Six Point plan first began to be injected with doses of substance by a young, idealistic Awami League leadership, with quite a bit of help from Nurul Islam and his fellow economists. It was Tajuddin who eventually made for the exit. Islam would meet him after his fall from grace, making it clear to Bangabandhu that he could not simply stay away from the wartime leader who after liberation had proved to be an astute finance minister. Islam's respect for Bangabandhu was enduring. The Father of the Nation was 'very perceptive and quick to grasp critical policy issues and decisive in action.' Islam, like so many who have lived through and made history with Bangabandhu, remains impressed by Mujib's knack for remembering men and events. The writer recalls Bangabandhu going back to discussions with him on subjects weeks and even months after the two men had first talked about them.
In Khondokar Moshtaque Ahmed, it is the conspirator Nurul Islam discovers. Towards the end of 1974, when Islam makes it known to Bangabandhu that he planned to leave government, it is Moshtaque who offers him unsolicited comments on what he considers Mujib's arbitrary running of the administration. Islam is left surprised. He mentions another episode, this one in the course of a boat trip arranged for visiting Australian prime minister Gough Whitlam in December 1974. Strolling along the deck, Islam comes across Moshtaque and Taheruddin Thakur in conversation with each other. Again, unsolicited, the two men remark on how thankless Islam must have found his work at the planning commission and how relieved he must be to be going out of it. At that point, Bangabandhu turns up and, pointing at Moshtaque and Thakur, asks them what they are up to and why they always are huddled together, conversing in whispers. Years later, Nurul Islam would reflect on such telltale signs of a disaster in the making.
'Making Of A Nation' is a necessary insight into an era that remains, for all its attendant difficulties, a defining period for Bangladesh. Islam recalls his meeting with General Ziaur Rahman, at the latter's invitation, at the end of 1974. For reasons which remain as mysterious as they were in that critical year, Zia noted that Nurul Islam was about to depart from the planning commission but felt that he ought to stay on in his position. Bangladesh, said Zia, would emerge from the woods and things would brighten up.
This is a work where an encapsulation of history as it was forged between the early 1960s and mid 1970s comes to the reader. Nurul Islam speaks of meeting Ayub Khan face to face, for the latter suddenly appeared to be intrigued by the 'two economies' theory then being floated by Bengali economists. Of course, in the end, Ayub Khan did not give it any further thought. Islam notes the careful manner in which Tajuddin Ahmed ignored Robert McNamara, who was busy doing all he could to speak to the finance minister, in Delhi in 1972. Tajuddin was yet upset that the United States had tilted in favour of Pakistan during the 1971 war. Besides, McNamara, having prosecuted the Vietnam War for years before moving on to the World Bank in 1968, was still a symbol of American insensitivity for him. When plans for McNamara to visit Dhaka eventually did fall in place, Tajuddin was not amused. He opposed the idea of an official dinner to be hosted by the deputy chairman of the planning commission for the visitor. And when McNamara called on him, Tajuddin startled the World Bank president by suggesting that if the Bank wished to assist Bangladesh in its economic recovery, it might as well make bullocks available to it for purposes of accelerating agricultural cultivation in the rural regions of the country!
Syed Badrul Ahsan is Editor, Current Affairs, The Daily Star