Life Lessons from a Deck of Cards
Tagore's "Tasher Desh" in a new light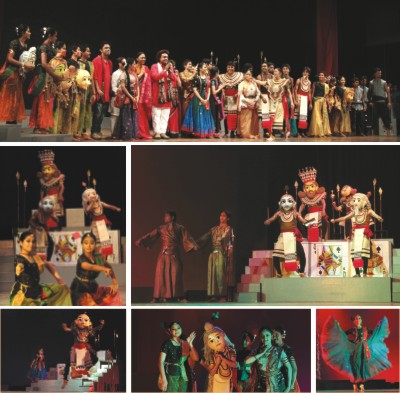 Rabindranath Tagore wrote "Tasher Desh" (Land of Cards) 78 years ago, in the context of British India. This dance-drama is a satire on the rigidity of class systems, both Indian and British, employing the dramatic and comedic device of a land of cards where a population is trapped in countless, inane rituals. But has this satire/fantasy managed to retain its pertinence after almost eight decades?
As part of its 'Rediscovering Tagore' festival, celebrating the 150th birth anniversary of the Nobel laureate poet, British Council presented "Tasher Desh" at National Theatre Hall, Bangladesh Shilpakala Academy in Dhaka on April 22. The Daily Star is the communication partner of the festival.
Of all the components of the festival, this was hands down the most ambitious project undertaken by British Council. This was way more than a dance-drama, it was a 'dance-opera', a magnum opus if you will, executed by Shadhona (A Centre for Advancement of South Asian Culture), and presented a fusion of diverse dance forms -- Manipuri (one of the classical Indian forms), Chhau (indigenous to Bengal) and Western Contemporary. Directed by accomplished Bangladeshi dancer Warda Rihab, the production was jointly choreographed by Rihab and Rachel Krische (known for her expertise in contemporary dance) from UK. Biren Kalindi and Jagannath Chowdhury (from Purulia, India) choreographed the Chhau movements.
Shadhona experimented with the music as well. Under the direction of famed new age percussionist Tanmoy Bose, the vocal cast included traditionally trained Rabindra Sangeet singers like Nandita Yasmin, Lopamudra Mitra and contemporary/indie vocalists, Shayan Chowdhury Arnob, Anusheh Anadil and Rupankar Bagchi.
After a brief speech by Information and Cultural Affairs Minister Abul Kalam Azad, the curtains went up. Before the actual play rolled out, choreographers Rihab and Krische, surrounded by dancers, presented a jugalbandi of contemporary and Manipuri to the song "Khoro Bayu Boi Begey". I was impressed but keener on seeing the two forms mesh during the play.
The Plot: Tired of the monotonous palace life, a prince wants to set out on a voyage. He is accompanied by his mate/sidekick, a merchant. They encounter a tempest. After a shipwreck, the duo find themselves in a land where seemingly ridiculous rules and disciplines reign supreme. Abidance to strict rules in daily lives has taken away basic human qualities like emotions. There is no place for the desires of the heart. Life in this country is literally like a game of cards -- all rules -- and nothing is spontaneous. The denizens, aptly, resemble cards.
The arrival of the two foreigners who advocate free will cause an upheaval and soul searching in this land of cards, and gradually one after another, the cards shed their lifeless, zombie-like identities -- appearing very human.
Wow Factors: The masked Chhau dancers from Purulia. From the moment they appeared on the stage, these dancers had the audience in their puppet-like grips. They were brilliant, magical, and impossible to look away from. In fact, all the dancers went above and beyond to make this production a rousing success. Music direction by Tanmoy Bose offered fresh, new sounds to the ever-familiar Tagore songs. Veteran dancers Laila Hasan (as the Queen Mother) and Lubna Marium (Queen of the Cards) added depth to this innovative production. Nandita Yasmin's impassioned rendition embodied everything Tagore said and left unsaid. Costumes by Neelay (Odissi Vision & Movement Centre - Kolkata), Shalonkara, Shama razzled and dazzled.
What Didn't Quite Work: As a hardcore admirer of Anusheh Anadil's vocal prowess, I didn't find myself drawn to her rendition of "Gharetey Bhromor Elo Gunguniye". Anusheh's bold, throaty vocals didn't do justice to the song that called for romance and playfulness. But the singer did make up for that with her rendition of "Bijaymala Eno Amar Lagi". Warda Rihab's strong suit, her years of Manipuri training, seemed to have become her limitation when executing the contemporary moves. The problem is contemporary dance involves a lot of improvisation, and often short bursts of energetic movements like lifts, that go against the principle of traditional Manipuri dance that embodies delicate and graceful movements. Manipuri dance avoids sudden movements, sharp edges or straight lines. Mastering contemporary dance and seamlessly mingling it with Manipuri in just three weeks is a Herculean task, considering professional contemporary training usually takes three/four years.
On the whole, however, the production was a smash hit with the audience. It offered Tagore's work in a package that reached out to a wider group of people -- the cheering full-house was evidence to that. Through this, British Council has successfully rediscovered Tagore and as many discerning music/dance enthusiasts suggested, this production should be staged again, aired on TV and recording of it should be released in DVD format. A music album featuring the songs should be made available as well.
Now going back to the question regarding relevance of this dance-drama (presented in the intro) to modern times: Unless we manage to turn this world into a utopia, the bard's message remains absolutely pertinent.