Hasina reopens jute mill in Sirajganj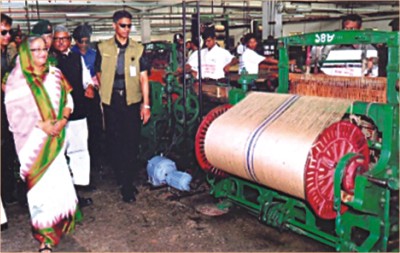 Prime Minister Sheikh Hasina yesterday reopened Qaumi Jute Mills in Sirajganj, the largest state-owned mill in the north.
It was closed on July 31, 2007 by the military-backed caretaker government.
The prime minister restarted the operations of the jute mill after renaming it as Sirajganj National Jute Mills, to the cheers of local people.
Hasina directed the officials concerned to properly look after the mill as the fibre is regaining its lost glory.
The Qaumi Jute Mills was established in 1960 at Raipur in Sirajganj. In the 1980s, it started incurring losses. Later, the BNP-led four-party alliance government suspended funds to the mill.
Main products of the mill are hessian, sacking and jute carpet backing cloths.
Through the relaunch of the jute mill, a major election pledge of the AL led the grand alliance government was fulfilled.
About 4,000 people would get employment in the renamed mill.
The government has taken steps to reopen four jute mills, including Qaumi Jute Mills, aiming at revamping the jute industry, which witnessed brisk growth in the last fiscal year.
The four mills -- Qaumi Jute Mills in Sirajganj, MM Jute Mills in Chittagong and People's Jute Mills and Daulatpur Jute Mills at Khalishpur in Khulna -- will be operated under the state-run Bangladesh Jute Mills Corporation (BJMC).
BJMC has 24 jute mills, of which 16 are now operational.
The government is providing various facilities including easing the conditions of bank loans to the jute mills in both public and private sector that resulted in significant increase in production and export earnings.