Rab firing questioned
Family of Limon wonders who to seek justice from; HR watchdog chief worried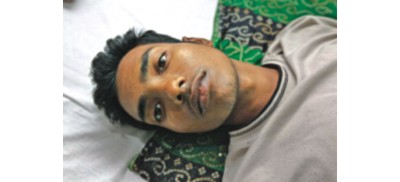 Relatives of Limon Hossain wonder where to seek justice when the members of Rapid Action Battalion had already shot and maimed the college student without proper verification.
Rab shot Limon in the left leg at his village Chhaturia in Rajapur of Jhalakathi in the afternoon of March 23 when he was taking his cows to the field.
Limon bled for three hours on the bank of river Sandhya before the Rab members realised that the boy immediately needed medical attention. The law enforcers then took him to Sher-e-Bangla Medical College and Hospital in Barisal, which took another five hours on the way.
Doctors on March 25 referred Limon to National Institute of Traumatology, Orthopaedic and Rehabilitation (Nitor) hospital in the capital being sure that the injury was life threatening and irreversible.
Limon's left leg was amputated from the thigh on March 27 as his leg tissues were totally damaged due to excessive bleeding.
"From now on, people will feel pity for me as they do for the disabled. Or perhaps, they would make my life miserable as I am officially labelled as a criminal," Limon sobbed out to The Daily Star in his hospital bed in the prison ward yesterday.
The teenager is now doomed to despair.
"I wanted to be a banker, but that dream of mine is shattered. The Rab members took only two to three minutes before they shot me. I told them that I am a college student and urged to verify the allegations against me with our college principal and villagers," said Limon recollecting the most horrible moment of his life.
Rab, however, claimed that Limon received the bullet injury in a shootout between them and Limon's cohorts. They said the group opened fire at Rab and they retaliated. The Rab members also claimed to have recovered a firearm from Limon and that he was an associate of local criminal Morshed.
Meanwhile, Nasiruddin Mahmud, principal of Kathalia PGS Multipurpose Vocational School and College, said, "Limon has no bad record that we know of. On the contrary, he is studying here for free for being poor but talented."
The 16-year-old who had worked in a brick field on his holidays to chase his dreams now faces two cases including one for possessing illegal arms.
"He was shot without the least evidence and verification of the allegation brought against him. From whom to seek justice now and what would that justice bring when the boy has already lost his leg?" said Limon's uncle Ilias Hossain. He also mentioned that already Tk 20,000, contributed by villagers, has been spent on Limon's treatment.
Limon is the youngest among the three children of Tofazzal Hossain, employee of a fruit shop in Savar. His brother and sister are graduating from another college at their own expense.
After the tragic story of Limon was published in a Bangla daily on Wednesday, Prof Mizanur Rahman, chairman of National Human Rights Commission, visited Limon and his relatives at Nitor.
He said the commission would ask the home ministry to from a body to probe the incident. He also said the commission would investigate the incident itself along with other human rights organisations.
"We want to know who gave the authority to Rab to shoot a man even if he is a criminal," said Prof Mizanur Rahman.
Meanwhile, Rab Media and Legal Wing Director M Sohail said, "Investigation will unravel whether the boy was injured by Rab or his cohorts." He brushed aside all the allegations against Rab saying that the boy is playing sympathy act to mislead people.