ICC Cricket World Cup 2011
Jayawardene's tiki-taka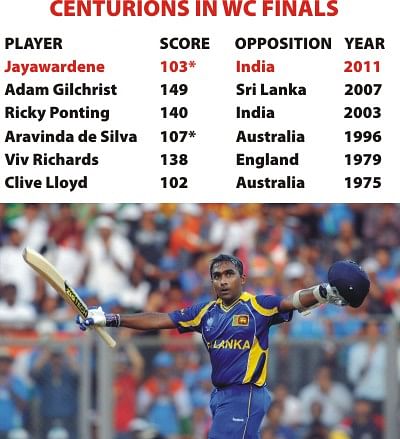 Mahela Jayawardene's batting resembles Spain of the 2010 football World Cup. It is long drawn but comparisons tend to satiate our fantasies, so stay with it.
Like the Xavi-inspired world champions, Jayawardene perfects the little things and tends to play beautifully; always looking to walk to a hundred rather than rush into it or lean into showboating.
He touches the ball, he rolls it along the ground, squints, finds a little gap and pushes the ball through that. Last night, his World Cup final masterpiece was just that. When he joined Kumar Sangakkara in the 17th over, Sri Lanka were not cruising and neither was the skipper hitting it well. But in Jayawardene's presence, Sangakkara feels safe.
The 62-run third wicket stand and another 50-plus with Thilan Samaraweera calmed nerves and made sure it all went to plan into the last quarter of the innings. No shots in the air till the batting Powerplay: check; wickets in hand: check; one set batsman at the crease: check.
Jayawardene remained at the crease to fill all those boxes and some more. He didn't give off any nervous tension and through singles mainly, made sure at least one of the big hitters had him for support in the end. He got two -- Nuwan Kulasekara and Thisara Perera -- but remained the more attractive hitter.
In recent times, Sangakkara has brushed aside any doubt over Jayawardene, questions bounced back after his quick exit from the semifinal. Sangakkara called him the best batsman of this generation, only comparable with Aravinda de Silva from all-time.
Sangakkara remained adamant that Jayawardene would come good, almost laughing off suggestions that he was out of form. He was never, but when a batsman like Jayawardene doesn't score big ones, it is slightly off-putting. It is like Sri Lanka's Ferrari of the 1990s, de Silva always making the biggest contribution on the biggest stages. The two have captained but had better careers afterwards and both are part of the great Sri Lankan tradition of having a senior pair leading the way.
Now both these sublime batsmen have World Cup final hundreds to their name and naturally, theirs would impress purists and like finely crafted showpieces, will find a best spot on the mantle piece of great knocks.
You can put Clive Lloyd (102 in 1975), Viv Richards (138* in 1979), Ricky Ponting (140 in 2003) and Adam Gilchrist (149 in 2007) on one side as just brutal. Lloyd's effort was the sort that took the wind out of Ian Chappell's Australians. Richards hardly had a sweat when he swung Chris Old and Mike Hendricks for sixes while in modern day cricket, the hundreds of Ponting and Gilchrist are more annihilation than classics.
But Jayawardene's would be remembered for its class: the big stride to drive Harbhajan Singh through point, the late taps past MS Dhoni, the leisurely cuts off Sreesanth, Virat Kohli and the rest.
He only hit one ball in anger, a tee-off through mid-off against Zaheer Khan in the batting Powerplay that took him past the magical mark.
But in all that, Jayawardene's unbeaten 103 off 88 balls was unhurried like a weighted pass from Xavi, his exquisite boundaries having as much flair as a Barcelona passing sequence that ends up in the back of the net.
Just like Spain or Barcelona or any magician that walks out of La Masia, Jayawardene wants to walk into the target, not force it.