AL leader shot dead in city
2 cops suspended, 2 transferred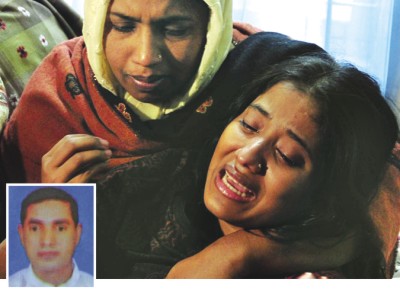 Criminals shot dead the general secretary of Awami League ward-41 unit of the capital's Agargaon yesterday, six days into the shooting of AL president of the same unit.
Victim Fazlul Huq, 40, came under attack on his way to offer juma prayers and distribute sweetmeats on the occasion of his father's death anniversary at a mosque in the area.
Following the back-to-back attack on the two AL leaders, the home ministry yesterday transferred Deputy Commissioner (DC) Mohammad Ali Mia and patrol inspector Swaraj Kumar of Tejgaon Division to Public Order Management (South) and suspended officer-in-charge Riaz Hossain and sub-inspector Kamruzzaman of Sher-e-Bangla Nagar Police Station.
DC Selim Mohammad Jahangir (traffic west) took the DC's office as additional charge while Inspector Syed Ziauzzaman of Rajarbagh Police Lines the charge of Sher-e-Bangla Nagar Police Station.
Witnesses said four of the gang members shot Fazlul in the head and abdomen leaving him critically injured in front of Baitun Nur Jame Mosque at BNP Bazar around 1:00pm.
Fazlul was immediately rushed to Pangu Hospital where the doctors declared him dead. The body was later sent to Dhaka Medical College morgue for autopsy.
Home Minister Sahara Khatun, State Minister for LGRD Jahangir Kabir Nanak and senior police officials went to the morgue to see the body.
Md Shaheen, a tea stall owner and witness of the incident, said one of the assailants called Fazlul by his name and asked him to stop as he was entering the mosque. Fazlul sensed something wrong and started to run but he stumbled and fell down going just a few yards.
The criminals pulled Fazlul up and shot him, said Shaheen, adding that the gang fled the scene on a CNG-run-auto-rickshaw and two motorbikes. On the way they hurled three bombs and shot two blanks to panic the on lookers and make an escape.
On January 8, criminals shot and injured Nur Mohammad, 68, president of AL ward-41 unit, at his Mamata Bohumukhi Somobai Samity office in West Agargaon Bazar around 7:00pm.
Shahnaz Begum, Fazlul's sister and general secretary of Mohila AL of the same ward, told The Daily Star that like Nur Mohammad her brother was a councillor aspirant of the ward in the upcoming Dhaka City Corporation polls.
Sources in the police said they suspect that Hanna group in the area might have killed Fazlul.
The new OC of Sher-e-Bangla Nagar Police Station said they are raiding different places in the capital to catch the criminals.