Past Perfect
Going back in time with Suborna Mustafa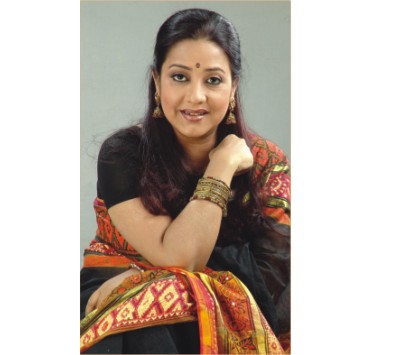 With an impressive acting lineage, Suborna Mustafa has established herself as a leading lady in Bangladeshi TV plays. To date, she remains unparalleled with her superlative theatrics, expressive eyes, and that beguiling and mysterious smile -- all attributes of a charismatic actress.
Though at present Suborna does not play the typical 'heroine' roles any more, she appears on the small screen frequently in diverse roles.
The actress recently shared her childhood memories and more with The Daily Star:
I was a mischievous child; probably the naughtiest on the block. I behaved like a pundit in school, as if I knew everything. Once I enrolled at a recitation competition without my parents' consent. No one at home knew about this and I had no intention of sharing this information with them, though my parents were noted cultural personalities.
Somehow on the day of the performance, baba (renowned actor-reciter Golam Mustafa) came to know of it and was quite surprised that I had not bothered to tell him about it. However, he was over the moon when I got the first prize for my recitation of "Chharpotro". Guess what? The next day our teacher came home with my trophy since I had totally forgotten to bring it with me. And that is how my parents came to know about it, says Subarna with a grin.
My childhood days were mostly spent at my nana-nanu's (maternal grandparents') house on Elephant Road. It was a massive house, with a huge yard where we played our favourite game of kumir kumir, which most children were fond of.
My nanu (grandmother) had a kitchen garden in the backyard where she planted seasonal vegetables. She would plant pui shak and spinach and we would often steal the seeds and fling it at the white wall creating a deep reddish tinge all across it! You can guess how mad it made her every time we ruined her walls.
I developed a weakness for pets from a very young age. This was probably in my genes from my maternal side. I watched in awe when my father brought home some puppies one day, and my nanu and baba fed them milk in droppers.
When I was 9/10, I remember my uncle taking care of birds. One day an irate turkey had its day as it chased me all over the place and I kept screaming till someone came to my rescue!
The Liberation War started when I was around 10. You can say that we lost our innocence with the war, and became accustomed to unthinkable brutality.
Recalling my childhood, I remember the rickshaw rides we took from Elephant road to Viqarunnessa Noon School where I studied. The rickshaw fare was only five shiki (quarters). Difficult to forget those days.
During one such ride on my way back home, my father's friend gave me a treat of coca cola and chocobar -- the first in my life.
There was this Iqbal Store on Green Road that I frequented with my father. I craved to go there since the attendant would invariably give me gifts, maybe as bait!
Some more on my childhood -- I was terrible at maths in school. Once on a test I got 2 out 100, and when my parents wanted to see the paper I put 9 in front of 2, making it look like 92. Little did I realise that the number had to be written with the same ink…
Childhood slips away before we even realise it's gone…How I wish I could go back to the past and enjoy my carefree days once more!