Wasi, Emran get Gemcon Literary Award 2010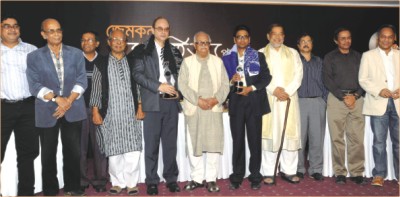 Wasi Ahmed and Emran Kabir were awarded the Gemcon Literary Award 2010 at a ceremony at Sheraton Hotel in the city yesterday, says a press release.
Wasi received this award for his book 'Trisimana' and Emran for 'Nidragahan Mohashunney.' Wasi and Emran received a crest and Tk 2 lakh and Tk 25,000 respectively.
Prof Hayat Mamud and writer Mainul Ahsan Saber spoke on behalf of the jury board. Prof Zillur Rahman Siddiqui, writer Hasan Azizul Haque, poet Syed Shamsul Haque, Prof Mustafa Nurul Islam, poet Belal Chowdhury, poet Nirmalendu Gun, poet Rafique Azad and poet Kamal Chowdhury gave away crests, uttorio and books published by Kagoj publisher to the winners. Kazi Shahid Ahmed, chairman of Gemcon Group, presented the cash prizes to the winners.
"The greatest prize for a writer is the recognition from the readers, it inspires us to write," said Wasi. Emran in his speech said Gemcon's effort will encourage the young writers of the country.
Dr Kazi Anis Ahmed, director of Gemcon Group, inaugurated the programme. He said they have been sponsoring Kagoj Sahitya Puroshkar since 2000 which was named as Gemcon Sahitya Puroshkar in 2007. He said they are certain that initiatives like this will continue to motivate young talented writers.
Renowned singer Shama Rahman performed at the programme.
Prof Rafiqul Islam, Prof Khandakar Ashraf Hossain, Prof Nazrul Islam, Dr Khaled Hossain, Dr Biswajit Ghosh, Director General of Bangla Acedemy Samsuzzaman Khan, Haripad Dutta, Zafar Alam, Naimul Islam Khan, Shyamal Dutta, Mohit-ul-Alam, Poet Mahadev Saha and writer Selina Hossain also attended the programme.