Disappearances in question
Ward Commissioner Chowdhury Alam among 22 vanished this year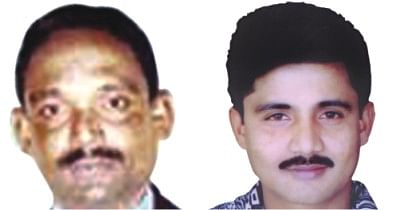 Around 10:00am on July 22, 2008. Tusher Islam Titu, 25, was buying bangles for his wife at Dhukuria Bera Bazar in Sirajganj. Suddenly, he heard an unknown voice from behind asking him his name. Shaken, Titu turned back to find he was surrounded by four well-built men.
Before he could utter a word, the men started punching him indiscriminately. Within minutes the four, now brandishing automatic pistols and identity cards, announced to the curious crowd that they were members of the Rapid Action Battalion (Rab) arresting a criminal.
As hundreds in the crowded bazaar looked on, the "Rab" crime busters bundled Titu into a Nosimon, a human hauler, and asked the local operator to drive on.
Since that morning Titu disappeared without leaving a trace. His family looked for him at different Rab offices and police stations only to learn that the law enforcers know nothing about the arrest at Dhukuria Bera Bazar.
The Rab spokespersons never admitted to have arrested anyone in that area that day.
Fifteen days after Titu was picked up in Sirajganj, a young man turned up at Titu's house in Rampura in the capital. Family sources say the youth was too scared to reveal his name. The family quoted him as saying that he had just been released from the Rab-1 custody in Uttara where he met Titu.
Titu gave him the address and begged him to inform the family about his whereabouts, the youth added.
"We immediately went there to look for Titu but were told that there was no-one of that name," said a family member asking not to be named.
There was, however, enough reason to have Titu arrested and put him on trial under the country's legal system as he was accused of at least six criminal offences including a murder and of possessing illegal firearms.
Khilgaon police identified him as "western" Titu, a listed criminal of the capital. Fearing arrest by Rab, Titu left Dhaka and tried in vain to settle in Dhukhuria Satlathi, his native village.
Similar disappearances throughout the country allegedly with the elite force's involvement have nonetheless continued. Rights organisation Ain o Salish Kendra (ASK) puts the number at 22 in the eight months since January this year on the basis of newspaper reports. ASK officials say the actual number would "definitely be higher".
"Many even don't know when their loved ones are being picked up as the law enforcers pick them up from the streets. Many are too scared to report that the law enforcers are behind the disappearance of their family members," says an ASK high official.
Dhaka City Corporation ward councillor and BNP leader Chowdhury Alam disappeared on June 25. Only five days before his disappearance plainclothes Rab men followed him on motorcycles and tried to drag him out of his vehicle at one point.
According to a general diary (GD) recorded by Gulshan police Sub-inspector Mohammad Ali, a patrol team rushed to Road-70 and found Chowdhury Alam and a crowd of more than 200 people who detained two men on a motorbike around 7:30pm on June 20.
In his official statement SI Ali said when the crowd identified one of the two as "one of several people who tried to abduct Chowdhury Alam, I demanded his identity."
The man produced his ID card which said the person was ASI Md Billal Hossain (ID No 314772 and Personnel No 4016801) of the Rab headquarters, says the GD.
The crowd immediately melted into darkness as the police officer showed them the ID card of the Rab man.
Five days after that incident Chowdhury Alam was kidnapped by unknown assailants on a yellow cab and his whereabouts are still unknown.
Alam's son Abu Sayeed Chowdhury said there is enough circumstantial evidence to relate Rab with the abduction of his father. "We have no doubt, considering the events of past few weeks before my father's disappearance, that Rab has abducted him," Chowdhury said.
Nazma Begum, a resident of Kapasia in Gazipur, filed a writ with the High Court seeking a directive to produce her husband Salim Miah before the court. According to the petition, her husband Salim disappeared allegedly after Rab arrested him in Kapasia on February 19 this year.
"The same action is continuing. State terrorism is carried on in different ways. Disappearance is just the extension of crossfire, a new form of state terrorism," observes rights activist and ASK Executive Director Sultana Kamal.
"Disappearance is another phase of extrajudicial killing and continuation of the crossfire," said Odhikar President Prof CR Abrar of Dhaka University, adding, "This is a matter of grave concern that this phenomenon is occurring."
Rab Legal and Media Wing Director Commander Mohammad Sohail termed the allegations "absolutely baseless and motivated".
"A vested quarter is trying to tarnish the image of the law-enforcement agency by spreading these allegations. This [disappearance] might have resulted from internal feud among criminal gangs."
Continuous extrajudicial killings by law enforcers appear to have a serious effect on freedom of expression as many of the eminent intellectuals, lawyers, rights activists, journalists, bureaucrats, media academicians and retired police chiefs refused to comment about it.
Rab is so tight-lipped that none other than its legal and media wing director could be reached for comments regarding extrajudicial killing, which insiders think is "too sensitive".
Despite repeated attempts an appointment with the Rab director general on the issue could not be arranged.
Disappearance is nothing new in the state's effort to control crime or criminal activities. Wherever extrajudicial killing continued for a longer time, the countries experienced cases of disappearance.
Extrajudicial killing is nothing new in Bangladesh and began soon after independence with the formation of Rakkhi Bahini in 1972. The Operation Clean Heart was another phase of extrajudicial killing in the country.
"It occurred during the tenure of every government in the past," said advocate Adilur Rahman Khan.
The phenomenon of extrajudicial killing can also be traced at times around the world in the name of uprooting terrorism or extremism, mostly during military regimes. Disappearance was an excellent discovery to carry out the killings across the globe.
During 1970s and 1980s disappearance was a common phenomenon in the Latin American countries including Argentina, Chile, El-Salvador and Nicaragua.
In 1996 a court found Augusto José Ramón Pinochet Ugarte responsible for the death or disappearance of 3,197 people between September 1973 and March 1990 using a secret police force he formed under the name National Intelligence Directorate (DINA).
Ninth prime minister of Pakistan Zulfikar Ali Bhutto was hanged on April 4, 1979 on charges of authorising the murder of a political opponent in March 1974 using a special police force.
Bearing scars of disappearance thousands of people endure inhuman pain for their near and dear ones every moment around the globe and many of them still await their return.
Titu's nine-year-old son Sazzad still does not understand what has happened to his father and sleeps with one of his photographs kept under his pillow.
"Where did you go? Why did you leave me? I can't keep waiting anymore," Sazzad speaks to the photograph of his father every night as his voice gets fainter in sleep.