Salman tells mates to clean up their mess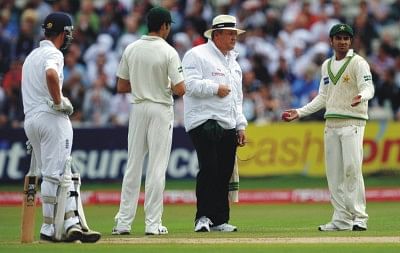 Pakistan captain Salman Butt said his side had to "clean up their own mess" after they were dismissed for just 72 on the first day of the second Test against England at Edgbaston here Friday.
It was the second time in as many innings Pakistan had been bowled out for their lowest-ever total against England after being skittled out for 80 five days earlier as the hosts won the first Test at Trent Bridge by a crushing 354 runs on Sunday to go 1-0 up in this four-match series.
England compounded their opponents' misery by taking advantage of another woeful Pakistan fielding display to be 112 for two, a lead of 40, when bad light forced an early close.
Jonathan Trott, dropped once was 31 not out and Kevin Pietersen, dropped twice, 36 not out.
As happened at Trent Bridge, where James Anderson took a Test match-best 11 wickets for 71 runs, including six for 17 in the second innings, Pakistan collapsed in the face of accurate swing bowling.
Butt, defending his decision to bat first in overcast conditions that Pakistan quicks Mohammad Aamer and Mohammad Asif would have relished, told reporters: "The idea was to put some runs on the board and let the other side get them.
"But, unfortunately, things didn't go the way we thought. But having created about five chances and not taken them, the match could have been pretty even."
As for the grey, swing-friendly, skies above Edgbaston, Butt said: "It's been like this since we've come here, we haven't had one day with sunshine."
But he said the top-order batsmen had to take responsibility.
"We've been doing this all our lives and we have to clean up our own mess."
Azhar Ali battled hard for a 32-ball nought while opener Imran Farhat faced 24 balls as he too became one of five ducks in the innings.
"I think we've got to give credit to the English bowlers," said Butt. "Those first 20-odd overs, they literally didn't give us anything to hit."
After Trent Bridge, Pakistan ended the international exile of former captain Mohammad Yousuf -- who boasts an impressive Test average of more than 53 and exactly 70 against England.
But he only arrived in England late on Thursday and Butt said it would have been unfair to pick him for this match.
"He's not somebody whose selection is questioned but he arrived at five, 5.30pm Thursday and he hadn't had a (outdoor) net session for the last 15 days because of the monsoons in Pakistan.
"So, after consulting him, the team management decided to let him get in the groove. To put a guy straight in would have been unfair."
As for Pakistan's fallible fielding, summed up when debutant wicketkeeper Zulqarnain Haider dropped Pietersen on 20, having been brought in after the experienced Kamran Akmal's wretched match behind the stumps in Nottingham, Butt said: "It's something hard to contend with."
Meanwhile Broad, who a fortnight ago took a first-class best of eight for 52 at Edgbaston for Nottinghamshire against Warwickshire, was delighted by the discipline shown by England's seam attack.
"We didn't want to fall into a trap here of chasing wickets and suddenly going at four or five an over for the first hour," Broad said.
"We're bowling fantastically well, and we've had slightly cloudy conditions which have suited us."
Broad, the son of former England opener Chris, now an ICC match referee, added: "We've not given them a sniff. For batsmen to get 24, 32-ball noughts it proves as a bowler you're giving them nothing."