A TT party for kids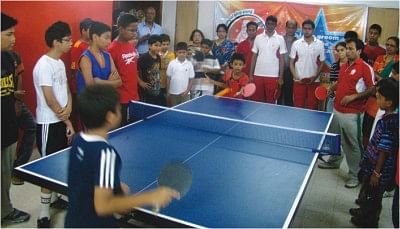 The jerseys would have alluded to a football tournament but the kids who turned up on Friday morning with 'Messi', 'Torres' and 'Lampard' on their back were geared up for a different sport altogether.
They were students of Siddiqui's International School and yesterday they entered the second month of their three-month table-tennis camp in the Singer-BTTPS School Table Tennis Campaign, organised by Bangladesh Table Tennis Players' Society (BTTPS).
Boys and girls of different ages, brought over by their parents, thoroughly enjoyed the couple of hours of training on the table set up in the school building. According to Raziur Rahman, marketing communication manager of camp sponsors Singer, the camp was set up after national players approached them for support.
"They came to us with the proposal and we thought it was a brilliant idea not only to promote table tennis in Bangladesh but to provide school children with an activity," he said.
"We decided to run the camp in different schools and with the help of the players who are also good trainers, we thought this would be a success," added Raziur.
The players' fraternity is heavily represented in the camp with at least three coaches taking charge of the schools.
Apart from Siddiqui's, DPS-STS School, International Turkish Hope, Aga Khan School, Sunbeams, Radiant International, Sunnydale and Dhanmondi Tutorial have taken keen interest and are hosting the camps.
"These schools have really come to the party with table tennis. You only need a table in a room which is no big deal for their parents," said Singer official Abdur Rahim.
This is only the first phase of the programme after which an inter-school tournament will be organised at the end of the three-month cycle.
In the second phase, children of ten more schools will be trained and at the end of this year, an open tournament will be held with the participation of all the interested schools of Dhaka.
While all these are designed to promote the game and the programme itself, the camp is a great way to spend weekends and vacations, especially when space is at a premium.
It was refreshing to see the kids so excited to take part in a sport other than cricket and football. The involvement of the parents is also a good sign.
"These children are very enthusiastic and have really improved. Some of them are playing the game for the first time but they are really taking to table tennis," said Al-Mostofa Billah, captain of the SA Games table tennis contingent.
But BTTPS and Singer exclusively run the camp without any support from the table tennis federation, who have also not held a school tournament for several years.
Without tournaments, these camps become important events for fringe sports like table tennis and while it would be a bit too ambitious to say that these kids are future gold medal potentials but at least the camp is allowing them to free their mind from the monotony of daily life.