A feminine take on the world
Monica's solo exhibition at Dhaka Art Centre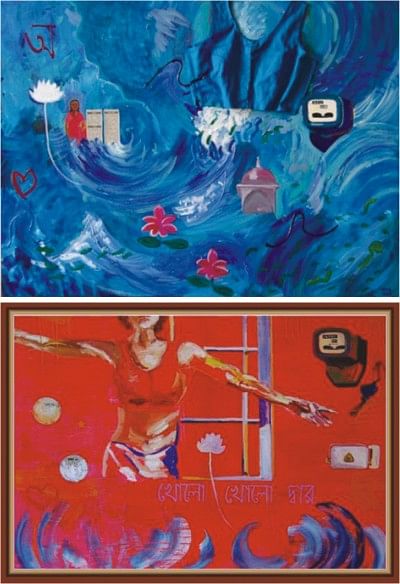 Bangladeshi expatriate painter Monica Jahan Bose's solo exhibition, titled "Open the Door" is now on at Dhaka Art Centre in Dhanmondi. Monica currently lives in Paris. Her last solo painting exhibition was held at Alliance Francaise de Dhaka in 2009.
About her works, Monica says, "My work is often my responses to the world which has come through my experiences. They usually highlight my multi-faced individuality, and issues like fundamentalism, gender politics, female sexuality and climate change. My paintings are playful and witty, and they strive to capture the thrill I feel for the world."
Recently, the artist has been nominated for this year's Prix Antoine Marin, a prestigious annual prize for emerging painters in Paris. She studied art at Wesleyan University, the University of California at Berkeley as well as Shanti Niketan.
Monica's approach and style often have a childlike quality and her paintings have a very vibrant look, owing to her spontaneous use of colours. Thick colours create many layers in her works. Colour is the key element in her paintings; especially red is noticeable in her works. Her paintings highlight love and human connections in a complicated world. Sari-blouse is a recurring motif in her works and she uses the blouse as a symbolic link to her culture and roots.
The themes of her paintings range from Language Movement to women's rights, illiteracy, fundamentalism, superstitions and transgressions. Bangla alphabets, women's tops, rickshaws, electronic metre, Shaheed Minar and the map of Bangladesh are other recurring subjects in her paintings.
Minister for Foreign Affairs, Dr. Dipu Moni, was present as chief guest at the opening of the exhibition. Lauren H. Lovelace, director of the American Centre, attended the event as special guest. Eminent art critic Moinuddin Khaled spoke about the works at the exhibition.
The exhibition ends on July 24.