World acclaim for Concord Engineers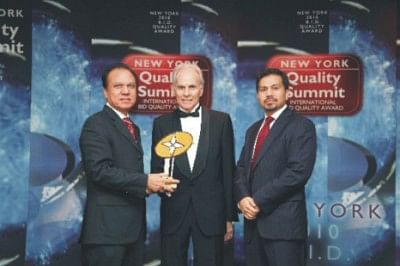 Concord Engineers and Construction Ltd has won the International Quality BID Award at the 24th International Quality Summit in New York recently, a news bulletin said.
The International Quality Summit is part of the annual programme of Business Initiative Directions Awards (BID) that is designed to recognise outstanding companies, organisations and businessmen.
BID, a private organisation that presents a quality award, is headquartered in Madrid, Spain.
SM Kamaluddin, chairman, and Shahriar Kamal, deputy managing director of Concord Engineers, received the distinction from Jose E Prieto, president of BID.
According to the news bulletin published by b2people from New York, Concord Engineers and Construction was featured to the business world through graphic and digital media broadcasting coverage for its noteworthy commitment to quality, excellence and innovation.
Recipients of the awards represent a force in the business world, offering opportunities to reach agreements with professionals from different countries and even different continents.
The recognition is based on the criteria of the QC100 quality model, implemented in over 100 countries, said the official website of International Quality Summit Convention.
This year, the convention took place on May 30-31. Companies from 65 countries together with the leaders from different business fields attended the summit along with academic personalities and representatives from the diplomatic corps.
Approximately 150 delegates from companies all over the world offering different focuses on how to develop business, gather every year at the event to exchange ideas, discuss subjects related to carrying on business and make deals.
This international forum provides a background for business presentations through which commercial relations can be initiated, making the Quality Award a basis for new relations.