Iffat Ara's artistic tribute to Tagore
Solo exhibition in Paris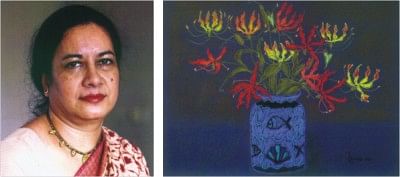 Singer-artist Iffat Ara Dewan's latest solo painting exhibition will open on July 3 at Atelier Adzak International Arts Space, in Paris, France. The exhibition will continue till July 18. On the occasion of the 150th birth anniversary of Rabindranath Tagore, Dewan, an ardent admirer of the Noble laureate poet, dedicates the exhibition to the maestro.
The works included at the exhibition are in oil, acrylic, mixed media and chalk pastel. Earlier, she used only pastel as her favourite medium.
Dewan is fond of flowers and she believes that they embody beauty and innocence. At times, she portrays deep forests where various kinds of flowers are noticeable. Her style is quite simple and one can easily comprehend her themes. Subtlety and minimalism are evident traits. Sometimes she limits her paintings to just blooming flowers and vase. Her objects are part and parcel of nature and her works make us contemplate and rethink our existence in nature. Through her works, the artist articulates our association with nature in a romantic setting.
Dewan's initiation into painting happened in the 1990s. She has been working on the same themes -- which is a monotonous aspect of her works.
Dewan's works give the viewers an impression of still life and create a solitary mood with their smooth ground, soft tone and evocative lines. At times, her subjects look stiff but her warm colours are inviting nevertheless.
Dewan mainly seems to concentrate on colours and prefers shades like blue, yellow, crimson and grey. Both subdued and vivid are executed on her canvas. The artist makes an attempt to restrain her application of colours so that they look reserved, yet vibrant, simultaneously.