Michael Madhusudan Dutta
A poet of epic proportions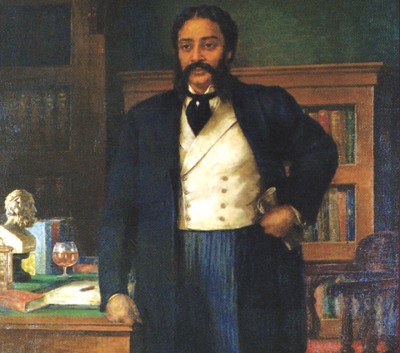 Michael Madhusudan Dutta is referred to as the father of Bengali sonnet and a pioneer of Bengali literature.
Today marks the 137th death anniversary of Dutta.
Dutta was born on January 25, 1824 in the village of Sagardari, under Jessore district (now in Bangladesh). His father, Rajnarayan Dutta, was a law practitioner in Kolkata. Madhusudan in his early years, was taught at home by his mother, Jahnabi Devi, and later he joined Sagardari Primary School.
While studying at Hindu College in Kolkata, Madhusudan began writing. He won several scholarships in college exams as well as a gold medal for an essay on women's education. Madhusudan's poems in Bengali and English were published in Bengal Spectator, Calcutta Library Gazette, Literary Blossom and Comet. Lord Byron was Madhusudan's inspiration.
In 1843, Madhusudan ran away from home and converted to Christianity, to escape a marriage his father had arranged and also to satiate his fascination with everything English and Western. He took the name 'Michael' upon his conversion.
Madhusudan's conversion to Christianity estranged him from his family. In 1848, Michael left for Madras where he started teaching. After his father's death, Madhusudan returned to Kolkata in February 1856. He started contributing to different journals.
Madhusudan realised the paucity of good writing in Bengali as well as his own ability to fill this vacuum. While translating Ramnarayan Tarkaratna's play "Ratnabali" into English, he felt the absence of good plays in Bengali. In 1858 he wrote the western-style play "Sharmistha." This was the first original play in Bengali, making Madhusudan the first Bengali playwright.
By dint of his genius, he removed the stagnation in Bengali literature both in style and content. He was the first to use blank verse in 1860 in the play "Padmabati," based on a Greek myth. This use of blank verse freed Bengali poetry from the limitations of rhymed verse. This success prompted Madhusudan to write his first Bengali poem, "Tilottama-Sambhab" in blank verse in that same year. This poem was written entirely in blank verse, and so were the two later poems "Meghnad-Badh Kabya" in 1861 and "Birangana."
Madhusudan's epic poem "Meghnad-Badh Kabya" is considered his all-time masterpiece to date. This epic was based on the "Ramayan" but inspired by Milton's "Paradise Lost." This grand heroic-tragic epic was written in nine cantos, which is quite unique in the history of Bengali Poetry.
Madhusudan went to England in 1862 to study Law. In 1863 he went to Versailles in France, staying there for about two years. It was in France that Madhusudan overcame the longing for England that had inspired his early works and realised the importance of his motherland and mother tongue Bengali.
Madhusudan returned to England from Versailles in 1865. In 1866 he became a Barrister. He returned to Kolkata in 1867 and started practicing Law. But his practice did not pick up and in June 1870, he was obliged to give up his legal career.
However, his habit of reckless spending ran up debts. Despite all ups and downs, Madhusudan kept on writing. His last composition was "Mayakanan" (1873).
On June 29, 1873, one of the greatest poets of the Bengal renaissance died in Calcutta General Hospital in a miserable condition at the age of only 49.
The all-inviting epitaph on his grave came from the poet himself:
Stop a while, traveller!
Should Mother Bengal claim thee for her son.
As a child takes repose on his mother's elysian lap,
Even so here in the Long Home,
On the bosom of the earth,
Enjoys the sweet eternal sleep
Poet Madhusudan of the Duttas.
Compiled by Correspondent.