2 more city buildings tilt
Owner of Begunbari building held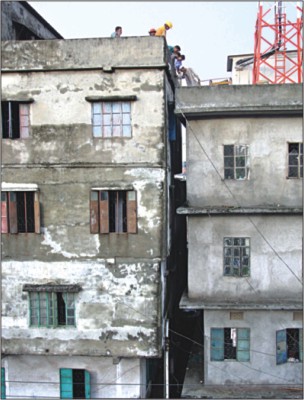 Two buildings tilted and a 20-storey one rumoured to have developed cracks in three areas of the capital yesterday, adding to fears for repeat of such incidents in the last few days.
A five-storey building at Nakhalpara Samitybazar and a four-storey one at Gandaria KB Road tilted and also developed cracks yesterday. But the high-rise at Shantinagar was proved not to be risky at all.
On Friday, a seven-storey building at Begunbari tilted, and a five-storey one in the same area collapsed on Tuesday night killing 25 people.
The incidents triggered rumours of building collapse or tilting at several places in the capital yesterday.
Contacted, Md Mamunur Rashid, senior station officer of Fire Service and Civil Defence, said a team from Tejgaon fire station rushed to Nakhalpara and started evacuation over 100 residents of the tilted building in the evening.
Major Shahjalal, director (operations) of Fire Service, said the building has tilted by two feet.
State Minister for Housing and Public Works Abdul Mannan and Rajuk Chairman Md Nurul Huda visited the Nakhalpara building.
Meanwhile, Tejgaon Industrial Zone police yesterday arrested Md Siraj Mian, owner of the seven-storey tilted building at Begunbari. Residents were evacuated.
Siraj was produced in the Chief Metropolitan Magistrate's Court.
Several hundred residents of the Shantinagar high-rise were seen leaving the building throughout the day. Gas and electric connections to the building were cut off to avert accidents.
However, an expert team from Bangladesh University of Engineering and Technology (Buet) which visited the building found no fault with it.
"We found no fault with the main structure," said Prof Syed Fakrul Amin, who headed the three-member Buet team that was called to examine the nature of cracks.
"We also suggested allowing the residents to return to the building, and restoring gas and electricity connections," he said.